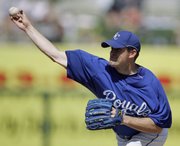 Surprise, Ariz. — Billy Butler went 3-for-3 with his team-leading fourth home run in the Kansas City Royals' 3-2, 10-inning loss to the San Diego Padres on Saturday.
Butler, normally the designated hitter, played first base. He likely won't be getting too many starts there during the season, manager Trey Hillman said.
Butler, hitting .380 in exhibition play, entered spring training in competition for the starting first base job with Ryan Shealy and Ross Gload. Butler was drafted as a third baseman and then was moved to the outfield in the minors. The Royals shifted him to first base last season.
"I think Billy will see some time at first base, but I've already met with Billy and told him the majority of his at-bats will probably be in the DH role," Hillman said. "I'm not going to tell him that he's not going to play first base because I think there are some times when he'll be at first base.
Hillman said he prefers the lateral range shown by Shealy and Gload.
Padres left-hander Chris Young, who will start the second game of the season for the Padres, allowed two runs and five hits in seven innings, the longest outing by a San Diego pitcher this year.
Jimmy Gobble, the fourth Kansas City pitcher, took the loss, walking two in the 10th and throwing a wild pitch before being replaced by Joel Peralta.
Copyright 2018 The Associated Press. All rights reserved. This material may not be published, broadcast, rewritten or redistributed. We strive to uphold our values for every story published.