2008 NCAA Tournament
Photo Gallery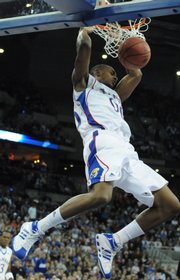 KU vs. Portland St.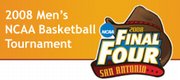 Get your March Madness fix at KUSports.com.
Omaha, Neb. — One down. And this one was a clinic in superiority.
Kansas University's men's basketball team started its quest for a national championship exactly how it was expected to: by dispatching 16th-seeded Portland State, 85-61, in the first round of the NCAA Tournament on Thursday at the Qwest Center.
In front of a largely pro-KU crowd that included Chancellor Robert Hemenway and football coach Mark Mangino, the top-seeded Jayhawks (32-3) athletically overwhelmed Portland State, racing to a 14-3 lead early and keeping the Vikings a safe distance away throughout the game.
Portland State tried to stop Kansas inside and hoped the Jayhawks would be off the mark shooting. Instead, KU was 8-of-13 from three-point range in the first half and drained 12 three-pointers total in the game. The Vikings (23-10) never had much of a chance.
Brandon Rush led all scorers with 18 points. Darrell Arthur had 17 and Mario Chalmers added 16.
Afterward, Kansas stayed and watched the opening half of the first-round game between No. 8 Nevada-Las Vegas and No. 9 Kent State. UNLV won, 71-58, and will play Kansas around 5:50 p.m. Saturday.
The winner will advance to the Sweet 16 and head to Detroit for next week's regional semifinals.
Copyright 2018 The Lawrence Journal-World. All rights reserved. This material may not be published, broadcast, rewritten or redistributed. We strive to uphold our values for every story published.