2008 NCAA Tournament
Photo Gallery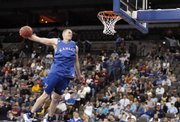 KU prepares for Portland State
Omaha, Neb. — It might not happen today when Kansas University meets Portland State and UCLA tangles with Mississippi Valley State.
It might not occur Friday when North Carolina faces Mount St. Mary's and Memphis engages Texas-Arlington.
Parity in basketball strongly suggests, however, that someday - perhaps sooner rather than later - a No. 16 seed will upend a No. 1 in the first-round of the NCAA Tournament.
"It's going to happen. You know it's going to happen. Certainly I hope it's delayed for the near future," Jayhawks coach Bill Self said Wednesday, eve of today's 1-vs.-16 Midwest Regional matchup between Kansas (31-3) and Portland State (23-9).
Tipoff is 11:25 a.m. at Qwest Center, with a live telecast on CBS (Sunflower Broadband channels 5, 13 and 201).
No. 1 seeds hold a perfect 92-0 record against No. 16s since the NCAA Tournament was expanded in 1985.
But, boy, oh boy, there have been some close calls for No. 1s, including KU's 70-59 closer-than-the-final-score victory over Holy Cross in 2002.
Back in 1985, Michigan topped Farleigh Dickinson, 59-55. In 1989, Oklahoma nudged East Tennessee State, 72-71, and Georgetown tamed Princeton, 50-49.
In '90, Michigan State needed overtime to subdue Murray State, 75-71.
"I don't think so," junior Brandon Rush told the first wave of reporters to approach his Qwest Center locker stall Wednesday, asked if a No. 1 would ever lose to a 16.
"But you've got to stay focused. You can't look past them at all."
Given time to ponder the issue, Rush had a different answer for wave No. 2 of media types.
"It probably will happen," Rush said. "Some team probably will look past a 16, think they are not that good and will get beat. We are not looking past them (Vikings) at all."
KU sophomore Darrell Arthur said, "probably so," when asked if a 16 would shock a 1 at some point. "I don't know who is capable in the future. It may happen, may not.
"It's possible, but if we go out and play our A game, I don't think anybody can stop us."
Portland State coach Ken Bone this week turned some heads when he told the Portland Oregonian that KU is a No. 1 seed capable of going down.
"Kansas has all the pieces," Bone said. "They're big, strong, quick, athletic and aggressive : and they're beatable. They have been beat."
The Jayhawks didn't seem offended when informed of that comment Wednesday.
"Everybody in this tournament is beatable," KU senior Russell Robinson said. "Every team in every sport is beatable. What we need to do is play hard every minute on the court. History says we've been successful when we do that."
Of Bone's comments, Rush said: "We got beat three times this year, so definitely we are beatable. We still are a great team that's hard to beat. I'm not mad at that. We lost three games. How can I be mad? I can see if we were undefeated."
The Jayhawks on Wednesday fielded questions about two possible areas of concern entering today's opener:
l Undersized, 5-foot-6, 150-pound junior point guard Jeremiah Dominguez (14.3 ppg, 4.1 apg) has made 82 threes in 187 tries for 43.9 percent. As a team, PSU made an average of nine threes a game in 23 attempts.
"He's not the tallest guy in the world, but he's talented," KU's Robinson said. "We look forward to the challenge. I think I am ready for him. I played against Cookie (Miller) of Nebraska. He's 5-foot-8. The main thing is not let him control the game. He's got a lot of energy."
l The early 11:25 a.m. start is odd, to say the least.
"Usually teams that play early in the morning that don't play well play like they haven't woke up yet," said Self, who plans a 7 a.m. wake-up call for his Jayhawks. "We'll get them up and moving early. We practiced at the same time yesterday and today practiced earlier than the game time (10:30 a.m. at Omaha Central High). We'll make sure they are awake tomorrow."
Self said the game actually matches a pair of teams that "mirror each other. They play like we play and vice versa.
"There are no dominant scorers. Everybody gets assists, play man to man, like to play fast. There are a lot of similarities. The biggest difference is we have more big guys.
"They have one of the biggest guys (6-11 senior Scott Morrison, 10.6 ppg, 5.9 rpg, league-leading 52 blocks). We have more big guys. Their big guys shoot threes. It could be a game of chess, see who can attack who."
The winner will meet the winner of today's UNLV-Kent State game approximately 5:50 p.m. Saturday. The loser's season is over.
"We're excited. This is what we play for all year. It's the last go-round for a lot of us. We need to come out and make the most of it," Robinson said.
Copyright 2018 The Lawrence Journal-World. All rights reserved. This material may not be published, broadcast, rewritten or redistributed. We strive to uphold our values for every story published.