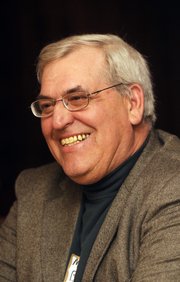 It's not easy to build a house. It's even tougher to build one using a revolving door of eager, but unskilled, laborers.
Mark Brooks has overseen the construction of nearly 30 homes in this manner.
The construction manager for Habitat for Humanity was honored for his efforts Tuesday with the Service to Mankind Award from the Lawrence Sertoma Club.
"He's had an impact on a lot of people - not only those who need affordable housing but also those who are trying to volunteer in the community," said Sandra Studley, Sertoma Awards Committee chairwoman.
For decades, the Lawrence Sertoma Club has honored local residents who exemplify service with the Service to Mankind Award. Last year's recipients were Ron and Joanne Hurst for their extensive volunteerism.
Brooks said it was overwhelming to receive the honor.
"This organization has bestowed this award on some spectacular people," he said. "To think I would be in their company - I'm certainly grateful for the award."
Brooks first joined Habitat in 2001 through the activities of his church. He stayed on, putting his construction management experience to use.
Managing the sites and volunteer efforts isn't as hard as it looks, he said.
"People wouldn't show up if they didn't have a desire to do something," he said. "That's all you need is the willingness to try."
Brooks said he is rewarded by working with the Habitat staff, watching the volunteers work, and seeing the children and families explore their new homes.
Studley, who has volunteered for Habitat, said Brooks must coordinate the home-building with the aid of volunteers who may have just one day to contribute.
"He uses patience and humor and a positive attitude and winds up with a house somebody can live in," Studley said.
John Golden, a member of the awards committee and Habitat volunteer, said Brooks brings finesse to his work.
"He's very easy with the students, trying to put a little humor with his instruction and making sure that they work safely," Golden said. "They respond to him. They come in and do the job and leave the day feeling good and like they accomplished something."
Copyright 2018 The Lawrence Journal-World. All rights reserved. This material may not be published, broadcast, rewritten or redistributed. We strive to uphold our values for every story published.