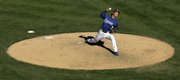 Surprise, Ariz. — John Bale made his case for a spot in the Kansas City rotation, pitching three hitless innings Monday as the Royals rallied for a 7-6 victory over the Chicago White Sox.
The Royals told Bale, used exclusively as a reliever, to be ready to compete for a starting job when he came to spring training. Bale made 25 starts in 2004 for Hiroshima in the Japan League, but primarily has been a reliever since.
"Today felt familiar to me," Bale said. "It's been '04 since I did it. Today made me feel like I can do this. I'm very happy with today, even more than last time. I was able to throw my secondary pitches for strikes whenever I wanted. My changeup was working real effectively. Everything just flowed really well."
Bale struck out four and allowed only one base-runner, hitting Jeff Liefer with a pitch in the second inning.
"All the strikeouts were on off-speed pitches," Bale said. "Two were on changeups, and two were on breaking balls. It's fun getting strikeouts on fastballs, but when you can put your off-speed where you want it and get the guys off-balance, that's a good feeling, too."
Mark Teahen's two-out single in the ninth scored Angel Berroa with the winning run.
Damon Hollins hit a two-run homer for the Royals in the sixth, and Joey Gathright stole three bases.
Alexei Ramirez hit a bases-loaded triple off Jorge De La Rosa in Chicago's four-run fifth.
De La Rosa, who made 23 starts last season for the Royals, gave up five runs and five hits 11â3 innings.
"It dominoed on him because of the elevation of the fastball and too much plate," Hillman said. "It did happen in a hurry. It wasn't a total loss. He threw strikes."
Copyright 2018 The Associated Press. All rights reserved. This material may not be published, broadcast, rewritten or redistributed. We strive to uphold our values for every story published.