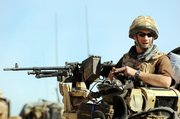 New York — News organizations are generally the worst places to keep a secret. But for months, news of British Prince Harry's deployment to Afghanistan was kept from the public though many prominent journalists knew about it.
Several organizations - including The Associated Press - agreed to keep the news under wraps to protect the prince and his fellow soldiers until the informal embargo was broken Thursday by the Drudge Report Web site.
The news out, British authorities decided Friday that the man third in line to the British throne should be pulled from Afghanistan. He had been serving with an army unit in the country's southern Helmand province since mid-December, and had been expected to stay until April.
The deal with news organizations had been in the works since last summer, when Britain's Ministry of Defense approached prominent journalists. Bob Satchwell, head of the British trade group Society of Editors, was called upon to broker the deal.
"When it became quite clear that Harry was going to be sent to Afghanistan, the media didn't want to be responsible for putting him and especially soldiers around him at extra risk, which clearly they would be," Satchwell said. "It was as simple as that."
For their cooperation, the organizations got something in return. The Press Association and Sky TV prepared thorough pool reports with interviews, video and pictures of Harry and his comrades that would be available the moment news got out - access well beyond what they'd normally get.
CNN joined the agreement about a week before Harry's deployment when it was told about it by a British affiliate, said Tony Maddox, chief of CNN International. The New York Times was not briefed about Harry's whereabouts and did not agree to any embargo, a spokeswoman said.
The AP deemed it similar to situations where it does not report on troop movements or military tactics to avoid putting soldiers at risk, said John Daniszewski, managing editor for international news. When President Bush visited Baghdad, the AP also didn't report on the trip until he was safely on the ground.
"If the AP had gone out of its way to break the story that Prince Harry was over there, it would have had the effect of inserting us into the news," Daniszewski said.
Harry's story changed - his deployment was abruptly ended - when it became public knowledge.
Yet a prominent media ethicist, Bob Steele of the Poynter Institute, said he's uncomfortable when news organizations promise to censor themselves at a government's request.
"I find the logic of news organizations to be weak and self-serving," Steele said. "I don't think the decision to hold back meets any of the criteria that I would apply to those exceptional cases where a news organization backs off on a story."
Incredibly, the embargo held even though an Australian magazine reported Harry was in Afghanistan six weeks ago. New Idea, a celebrity and lifestyle publication, reported on its Web site in mid-January that Harry had joined his regiment in a covert mission and had seen front-line action.
Copyright 2018 The Associated Press. All rights reserved. This material may not be published, broadcast, rewritten or redistributed. We strive to uphold our values for every story published.