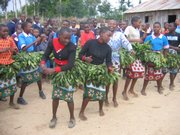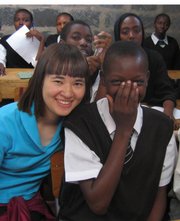 Until two years ago, Kenya ranked about as high on my to-see list as Antarctica - it was possible, but I didn't know why I'd go there.
I had no connection to Africa. That's unusual, considering my journeys through Europe, Australia and Asia along my way to U.S. citizenship.
Africa, however, remained a foreign place until my junior year at Kansas University, setting the framework for my first adventure as a KU alumna.
The journey
Reporting for the Journal-World led me to a Lawrence-based organization that assists in Kenya's education of rural primary school students.
Gloria M. Follett, longtime Lawrence school psychologist, and Peter Gitau, dean of student life at Iowa's University of Dubuque, started the Christian nonprofit Teach My Kenyan Children (www.tmkc.org).
It provides professional development, construction assistance and secondary school scholarships. It also arranges "ministry trips" where Americans come to help at the schools.
Several of the organization's members persuaded me to consider coming to Kenya, which faces a nationwide teacher shortage.
The government made primary school free in 2003, but the increase in students overwhelmed the system. Teach My Kenyan Children estimates that schools nationwide need 60,000 teachers.
Therefore, whatever I brought - educational resources, English knowledge, anything - could help.
Gitau led our team this summer. A Kenyan Jayhawk, Gitau has a KU doctorate in higher education policy and leadership. He took us to five schools in seven days.
I quaked as teachers introduced me like this: "This is your English teacher. She is very good. You must pay attention! Yes?"
Then they left me : alone : with 30-60 students. For the next 40 - sometimes 80 - minutes!
Amazingly, the students paid rapt attention.
"Jina langu ni (My name is) Shanxi," I began, "and I'm here from America and New Zealand to learn about Kenya and its culture. I also want to share with you some English."
That speech drew murmurs of approval, punctuated with "Welcome!" and "Nice to meet you!"
Students' questions
I tried to save the last 10 to 15 minutes of class to show photographs, upon which any semblance of classroom order vanished. At its peak, a barrage of children vacated their desks, ripping photos from my hands.
Afterward, they grilled me with questions.
"Do you eat snakes in America?" several asked.
To be honest, nobody in my general acquaintance did.
"How old are you?"
I kept my age a secret - culturally inappropriate, because older people wield more respect in Kenya.
They asked about America in awed tones: "How much to get there?"
I didn't begin to convert our $1,400 round-trip flight into Kenyan shillings. I guessed none of the students could afford even a one-way ticket.
Yet their dreams far surpassed their surroundings. Several said they wanted to be engineers, doctors and surgeons. Every class waved and shouted me to the door, often calling, "Please come again!" and "We love you!"
Lunch break came once, and I said, "You can go." All students stayed in their seats. "Continue!" they urged. "Continue teaching English!"
"But it's lunchtime!" I protested.
"We're not hungry," one boy said. This, from children who (I suspected) were malnourished. "Teach us!"
Their exuberance drained yet exhilarated me. By my count, I taught English to more than 15 classes.
Yet of all the moments of my trip, that one stands out perhaps the most.
The return
How can I describe my experience?
When I asked people who had been to Kenya how to prepare for the journey, they often struggled for the right words.
Many predicted I'd love it; a few warned of huge disparities between rich and poor.
They could not explain the instant connection I felt to a land still reeling from post-election violence.
In December, incumbent Mwai Kibaki, of the Party of National Unity (PNU), claimed victory over challenger Raila Odinga, of the Orange Democratic Movement (ODM). Claims of voter fraud spurred nationwide protests, which turned violent.
One national newspaper, the Daily Nation, estimated that more than 1,200 people were killed. More than 350,000 others were displaced before a truce between the parties.
We felt relatively safe throughout our stay. The violence, however, scarred a once-thriving economy.
Kenyans' hospitality despite hard times overwhelmed us. Hosts received us with such pride and dignity that we felt as if a pharaoh had deigned to honor us. As much as we helped them, they helped us - making this more a partnership than "humanitarian assistance."
No matter how much I learned, every experience left me thirsty for more.
My time in Kenya was far too short. A lifetime could not suffice.
Copyright 2018 The Lawrence Journal-World. All rights reserved. This material may not be published, broadcast, rewritten or redistributed. We strive to uphold our values for every story published.