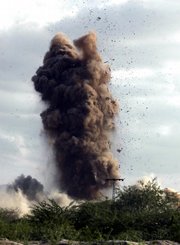 Khyber Agency, Pakistan — Pakistan's newly elected government launched the first major assault against militants in the country's volatile northwest on Saturday, destroying a militant leader's headquarters and shelling suspected hideouts of other fighters.
The offensive in the Khyber tribal region appeared to mark a refinement in strategy by the new government, backing its calls for peace deals in the tribal areas along the Afghan border with the threat of forceful action against militants who get out of line.
The United States said such deals were giving militants the freedom to regroup for attacks on U.S. and NATO forces in Afghanistan.
With growing militant threats to the nearby Pakistani city of Peshawar - and to the key Khyber supply route for U.S. forces in Afghanistan - Pakistan took action.
Late Friday, 700 troops from the paramilitary Frontier Corps moved into Kyber in preparation for the offensive, a round-the-clock curfew was imposed in the Bara area, and heavy contingents of troops blocked the main road from Peshawar into Kyber, local officials said.
By Saturday afternoon, the Frontier Corps began shelling suspected militant hide-outs in the mountains, local official Muhammad Siddiq Khan said.
Authorities blew up the headquarters of militant leader Menghal Bagh in a scene broadcast on national television. Bagh fled to the remote Tirah Valley along the Afghan border, a military intelligence official in the frontier said, speaking on condition of anonymity because identifying himself would compromise his work.
In recent weeks, Bagh's fighters waged attacks in Peshawar in what provincial officials say was an attempt to prove they wield influence outside the tribal regions and to intimidate the population. Bagh's followers also have been accused of threatening supply convoys bound for coalition troops in Afghanistan.
Maj. Gen. Alam Khattak, head of the Frontier Corps, said his troops destroyed three militant centers in Bara and killed one attacker in the operation, which was expected to last up to a week.
"We have occupied, captured all important heights, and we have taken control of the area," he said. Hinting the offensive would not be last, he said, "Other pockets of resistance and crime will also be visited."
The operation was also expected to target Haji Namdar, whose Vice and Virtue Movement is suspected of attacks against coalition soldiers in Afghanistan.
Copyright 2018 The Associated Press. All rights reserved. This material may not be published, broadcast, rewritten or redistributed. We strive to uphold our values for every story published.