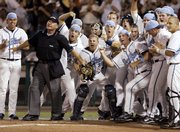 Omaha, Neb. — Chad Flack homered to get North Carolina to the College World Series in 2006 and 2007.
This year, he homered to keep the Tar Heels in Omaha at least for another day.
Flack's monster two-run shot in the bottom of the eighth inning Saturday night kept Carolina alive with a 4-3 victory over Fresno State.
"I don't really know what to say," North Carolina coach Mike Fox said. "I know Chad Flack is the clutchest player I'll ever be fortunate enough to coach. He's proven it time and time again."
UNC (54-13) forced another game today against Fresno State (44-30), the first No. 4 regional seed to reach the CWS. It was the second straight elimination game Carolina won on a late home run. Tim Federowicz's grand slam in the ninth broke a tie in a 7-3 victory over LSU on Friday.
Another win Sunday would wrap up Bracket 2 and send North Carolina to the best-of-three championship round for the third straight year, this time against Georgia. Meanwhile, Fresno State is trying to continue its surprising postseason run and make its first appearance in the finals in its third trip to Omaha.
"I don't think anybody in our clubhouse is thinking about our backs being to the wall," Fresno second baseman Erik Wetzel said. "We're just thinking about the next day, coming out and playing baseball."
The Tar Heels threatened almost every inning, but a committee of four Fresno State pitchers kept holding them off.
Finally, Flack broke through, and then Alex White (13-3) finished off the Bulldogs for his third win of the CWS, his second in relief. White became the ninth pitcher to win three games in a single CWS.
For Flack, it wasn't the first time in his Tar Heels career that he delivered a big home run. He hit two of them, including one in the ninth, to beat Alabama in the super regionals in 2006. Last year, he homered in the seventh to propel North Carolina past South Carolina in the super regionals and into the College World Series.
Where does he rank Saturday's homer?
"It has to be No. 1 right now," he said. "We're here another day, and we have a chance to play tomorrow."
Adam Warren (9-2) will start for North Carolina today. Clayton Allison (3-5), out since the second game of the super regional against Arizona State because of tendinitis in his right (throwing) shoulder, is the likely starter for Fresno, Batesole said.
Georgia 10, Stanford 8
Georgia can rest easy now. The Bulldogs are in the College World Series championship round.
The Bulldogs had gotten more rest than they wanted heading into Saturday's Bracket 1 final against Stanford. Coming off four days without a game, they unleashed their pent-up energy early and then withstood the Cardinal's ninth-inning comeback try to hold on for a 10-8 victory.
Now Georgia (44-23-1) awaits either Fresno State or North Carolina in the best-of-three championship round that starts Monday.
Rich Poythress tied a CWS record with three doubles, and Ryan Peisel hit a three-run homer that gave the Bulldogs a 9-3 lead in the fifth inning.
The Bulldogs beat Miami in their CWS opener and then Stanford on Monday. Their reward was supposed to be a three-day rest. But rain Thursday pushed the schedule back a day.
That created anxiety for the Bulldogs.
And now they're really happy.
"We're in the national championship, and you couldn't ask for more," shortstop Gordon Beckham said. "We want to play on the last day, and we're going to."
Copyright 2018 The Associated Press. All rights reserved. This material may not be published, broadcast, rewritten or redistributed. We strive to uphold our values for every story published.