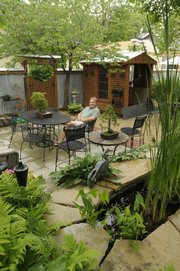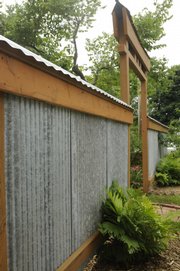 A lot of gardeners out there consider themselves to be do-it-yourself types. I know I do. Most times this is a successful strategy, and I learn a new skill and save money. But sometimes it is disastrous and the cavalry has to be sent in.
If I was under the notion of being a roll-your-sleeves-up-type personality, I should snap out of it now, because I don't even hold a candle to Mike Pisani.
Pisani earned a degree in anthropology from Kansas University. He works as a child care provider, and he'll be the first to tell you that he is no artist, sculptor or gardener. What he is, however, is a person who sees the potential in many things and creates something out of nothing.
"I can't sit still," Pisani says. "I've built stuff since I was little. I make furniture, I'm working on a big shop right now and I restore cars. I read a lot of books, watch TV, go online. I did have a woodworking class once, but mostly I'll just get an idea, read up on it and try. I have no idea about an 'artistic eye' and where that might come from. The mechanical abilities came from my dad, but a lot of it is just trying. If it's something physical like welding, stone working, or carving I'll try it. I don't get intimidated by attempting new skills."
This is abundantly clear in his garden. His home used to sit on an alleyway, so every time Pisani would till or dig he'd unearth bricks. Because of that he has fashioned gorgeous, curving sidewalks out of them. He cut bullet-proof material with a diamond-tipped blade and turned them into chimney liners he peppered throughout the garden.
"I look through a lot of garden books and catalogs," Pisani says. "I can just envision things. Once I was working on a limestone carving and a lady said, 'Oh, you're an artist'."
And while he'll shake his head in disbelief that anyone would mistake him for an artist, he does do quite well seeing beyond the obvious. By perusing auctions, salvage yards, junkyards, garage sales and the Trading Post, he has a knack for finding items that he transforms into, well, works of art.
There is a sculpture made by Pisani of thin metal rods that he discovered in a junkyard. He was inspired by a sculpture at the Spencer Museum of Art that has rods on its end that move in the wind or when you run your hands across it. His version is neatly rooted in a concrete base and surrounded by creamy white and yellow irises. There is a sculpture that Pisani created out of mostly car springs and gears that fit together nicely as they rust in the elements of the great outdoors; he states that it is supposed to depict an "exploding clock." An old '70s wall hanging made of metal has been sunk in concrete and used as a garden sculpture - again a garage sale find. Another sculpture that was once one man's junk is a metal piece with fabulous Asian influences. Surrounded by lava rock and worn pebbles it fits perfectly into Pisani's Japanese-inspired garden.
However, he'll be the first to admit that not just anything can go in the garden.
"If it has the right shape, form and color, why not?," he says. "And if I can find it at a salvage yard or hardware store, all the better. I've learned you just have to modify, that you really don't need to buy items in a garden center. They sell pre-rusted stuff which I can find in other places and create something original."
Pisani estimates that 99 percent of the items in his garden are found, borrowed or supposed to be used in another capacity, like the fence for instance.
"It is a Japanese-inspired fence," he says. "A lot was that I had these materials from an old barn. I needed a fence and thought maybe I could make this look good. The tin is aged and looks kind of like weathered bamboo, it doesn't need painting, it doesn't rot and it just looks better year after year."
Butting up against the fence is a quaint garden shed that Pisani constructed out of found windows in an alley with the siding and shingles purchased for a steal when a big-box store went out of business.
Even many of the plants are scavenged. The water lilies and water iris that float in one of his two hand-made water features (one of which is fashioned out of a horse trough) came from seed pods at Potter Lake.
"There is a lot of trial and error in Kansas gardening. You'll have three wet years and then baked hard dry for a season, you have to re-learn. So, I get a lot of plants from friends and ones that aren't picky," he says.
Pisani's garden is not a hodge-podge of mismatched items; it has a beautiful, polished aesthetic to it created from wonderful found borrowed and re-claimed materials.
"I like creating something that makes me feel calm and soothed," he says. "It's great exercise and I just enjoy it, digging plants and moving things around is really relaxing plus it all ultimately cuts down on mowing."
Copyright 2018 The Lawrence Journal-World. All rights reserved. This material may not be published, broadcast, rewritten or redistributed. We strive to uphold our values for every story published.