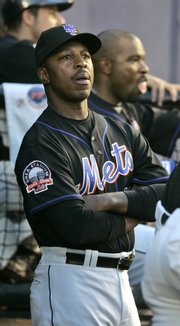 Anaheim, Calif. — After weeks of speculation that his job was in jeopardy, Willie Randolph finally got fired by the New York Mets while most fans were sleeping.
Randolph became the first manager in the majors to get fired this season, a move the Mets announced in a matter-of-fact news release around 2:15 a.m. Tuesday, nearly two hours after they beat the Los Angeles Angels, 9-6.
At 34-35, the Mets seemed wobbly after their colossal collapse last September.
"I'm really stunned by it," Randolph said as he left the team hotel shortly before noon. "I was surprised by it."
Bench coach Jerry Manuel takes over on an interim basis. Pitching coach Rick Peterson and first base coach Tom Nieto also were fired in an enormous overhaul.
Randolph led the Mets to within one win of the 2006 World Series. They got off to a strong start again last year but plummeted down the stretch and were unable to rebound.
A preseason favorite to win the NL pennant, the $138 million Mets had won two in a row when Randolph was dismissed. He was set to earn $2 million this season and is owed $2.25 million in 2009, when the Mets move into new Citi Field.
Randolph said he was sorry he wasn't able to "fulfill what my dream is, to come here and help this team win a world championship."
Ken Oberkfell, the club's manager at Triple-A New Orleans, and Dan Warthen, pitching coach for the Zephyrs, will join the major league staff along with Luis Aguayo, a Mets field coordinator.
It was a frustrating end for the 53-year-old Randolph, who was set to be an NL coach at the All-Star game at Yankee Stadium next month.
The 54-year-old Manuel takes over a squad that still has playoff aspirations. He's had success before, too.
Manuel managed the Chicago White Sox from 1998-2003, winning AL Manager of the Year in 2000 after guiding his club to the league's best record (95-67).
Copyright 2018 The Lawrence Journal-World. All rights reserved. This material may not be published, broadcast, rewritten or redistributed. We strive to uphold our values for every story published.