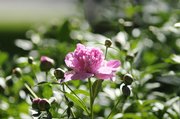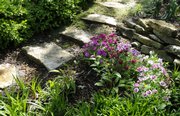 In 1926, a one-story English Cornwall-style home was built of brick and mortar.
At the time, the home looked out onto a valley where a quarry was busily unearthing rock outside the city limits of Lawrence. Past the quarry a smattering of Kansas University buildings towered in the distance.
The vista was open, rather rural.
Today that English Cornwall home is in the heart of the quaint and coveted West Hills neighborhood. Its view is no longer of a quarry but rather the glorious Potter Lake area and Memorial Stadium. Where there was once a spacious vista of open land and men hard at work drilling and digging there is now a constant hustle and buzz of foot traffic with students walking to and from classes. Where there sat a brick home with very few neighbors, Mrs. Dorothy Stucker would plant her peonies, tend to her garden and report back to her friends at the Countryside Garden Club.
Fast forward some 80 plus years and you'll find Beth Stella hosting a Countryside Garden Club meeting in the home that Dorothy Stucker built. The oldest garden club in Lawrence was established in 1953 and has a prestigious list of present and past members, two of whom have shared the same garden in a 1926 English Cornwall home.
"It makes you feel connected to a time and place. It's more fun to tell the story of time, the history of the home and garden," says Beth Stella. "Old houses have stories, and we are the caretakers of the house and the story. Now we are a part of the story, which is why it is so important to salvage the old stones, plants, bricks, benches and so on. You get a lot of satisfaction bringing a house back to life."
This old house has been resurrected since 2001 when the Stellas purchased it. Only two families have owned the sprawling house, but the Stucker family rented the home for many decades, causing rather extensive repairs and updating to be a foregone conclusion. The yard and the home required copious amounts of labor, but the bones of both were ever present.
Why take on such a monumental project?
Stella replies: "We love the neighborhood. Everyone has a garden and they are outside working in it. It's the old-fashioned neighborhood where people talk over the fence. The energy is great at this location. It is actually very quiet but you look out the window and there is lots of pedestrian traffic. People forget how great pedestrian traffic is. In fact, we get a lot of people who drive up here and park to walk. All I have to do is open the front door."
When the Stellas began their lofty remodeling project they did their best to preserve items in the home and garden. Much of the brick sidewalks in the garden were salvaged from the actual structure of the home, an old stone garden bench that resides under an enormous pin oak and near gigantic "sum and substance" hostas originally belonged to Dorothy Stucker. Even some plants have lasted the test of time and renovations.
"Before we started construction I dug up these peonies, put them in a pot and had them there for over two years," Stella says. "We finally got them back in the ground. As we dug around the foundation hostas kept coming up, we divided them and moved them and now they are rooted near Mrs. Stucker's peonies."
Beth Stella looks at her garden as a catalyst to keep her outdoors, as another dimension to the space that she lives in and as a learning tool. But one of the primary draws of gardening for Stella is to understand her roots.
"A great way to make connections across generations is gardening" she says. "My mother and my grandmother gardened. I'm the caretaker of Mrs. Stucker's garden as well. I don't own it, I merely tend it."
Copyright 2018 The Lawrence Journal-World. All rights reserved. This material may not be published, broadcast, rewritten or redistributed. We strive to uphold our values for every story published.