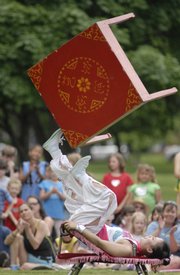 They flip. They juggle. They balance.
They're acrobats from the other side of the globe, and they made an appearance Wednesday in South Park.
Three Chinese acrobats travel around the country performing feats of strength, stamina and stability, and when Lawrence Parks and Recreation staff found out the gymnasts would be close by, they knew it was worth inviting them to town.
"This is a great thing to kick off summer and it's probably something people haven't seen before," said Roger Steinbrock, marketing supervisor for Parks and Rec.
A crowd gathered on the west side of South Park, and a few audience members got an opportunity to try some of the stunts that appeared effortless for the acrobats.
Gabe Ballard-Hanson, a Free State High School junior, tried to juggle blocks but wasn't too successful.
"It was a lot harder than I expected," he said. "It's pretty impressive. I've been to the circus, but I've never seen Chinese acrobats before."
Eudora resident Alyssa Balisdell, 11, knows a thing or two about gymnastics, and she was equally amazed.
"I can do some of their tricks, so I thought it was pretty awesome," the young gymnast said. "The two guys are really strong."
Steinbrock said the group could perform again in town, if they're in the area at the right time.
"We try to bring things to the community that (are) new and innovative and different," he said. "We want people to have fun this summer."
Copyright 2018 The Lawrence Journal-World. All rights reserved. This material may not be published, broadcast, rewritten or redistributed. We strive to uphold our values for every story published.