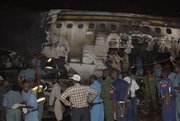 Khartoum, Sudan — A Sudanese Airbus carrying 214 people veered off the runway in a thunderstorm and burst into flames late Tuesday, killing dozens unable to escape the inferno. Officials said more than 100 people fled the plane before it was engulfed by towering orange flames.
An Associated Press reporter at the scene said the Sudan Airways jetliner appeared to have left the runway after landing at Khartoum International Airport, and several loud explosions resounded as fire raced through the aircraft.
The roaring blaze dwarfed the Airbus A310's shattered fuselage as firefighters sprayed water with little apparent effect, Sudanese TV footage showed. Ambulances and firetrucks rushed to the scene, and media were kept away.
The Civil Aviation Authority confirmed that 103 passengers and all 11 crew members survived. In addition, it said some other passengers may have gone home directly after the crew helped them through the emergency doors. Officials said most aboard were Sudanese.
Death toll reports conflicted. State TV initially said about 100 were killed, but officials later put the toll at dozens without being more precise. Deputy parliament speaker Mohammed al-Hassan al-Ameen said "about 30 people" died, while police spokesman Mohammed Abdel Majid al-Tayeb said 23 bodies were brought to the morgue.
"There are missing passengers who could be still inside the plane, or left the aircraft but did not inform officials," al-Tayeb said.
The cause of the accident wasn't immediately known and there were differing reports on the role weather played.
A sandstorm had hit the area with 20 mph winds between 2 p.m. and 3 p.m. and there was a thunderstorm and similar winds at the time of the crash around 9 p.m., said Elaine Yang, a meterologist with the San Francisco-based Weather Underground, a private weather service.
The head of Sudanese police, Mohammad Najib, said bad weather "caused the plane to crash land, split into two and catch fire."
Youssef Ibrahim, director of the Khartoum airport, disputed that bad weather caused the crash. He told Sudanese TV that the plane "landed safely" and the pilot was talking to the control tower and getting further instructions when the accident occurred.
"One of the (plane's) engines exploded and the plane caught fire," Ibrahim said. He blamed the accident on technical problems, but didn't elaborate.
The Khartoum airport was shut down until this morning, officials said.
Copyright 2017 The Associated Press. All rights reserved. This material may not be published, broadcast, rewritten or redistributed. We strive to uphold our values for every story published.