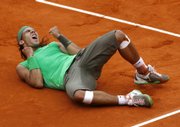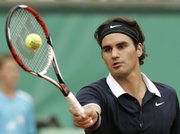 Paris — As the points piled up and the light faded, it was tough to decide which scenario had seemed less likely at the outset of the French Open semifinals Friday:
That Rafael Nadal would be so dominant during a 6-4, 6-2, 7-6 (3) victory over Novak Djokovic, a man who is, after all, ranked No. 3 and a Grand Slam champion?
Or that Roger Federer would run into so much trouble before winning, 6-2, 5-7, 6-3, 7-5, against Gael Monfils, a man who is, after all, ranked 59th and a major semifinalist for the first time?
Then again, by the end of the day, Roland Garros once more produced the likeliest of all championship matches: No. 1 Federer vs. No. 2 Nadal.
"Rafa again, across the net - it's the ultimate test on clay. It would be so much better to win the French Open by beating him," Federer said. "It should be entertaining to watch."
The showdown Sunday is their third consecutive French Open final, their fifth Grand Slam final overall, and plenty is on the line.
Nadal can become the first man since Bjorn Borg in 1978-81 to win the tournament four years in a row. Federer can add the lone major trophy missing from his collection, thereby making him the sixth man to complete a career Grand Slam and increasing his total haul to 13 majors, one shy of Pete Sampras' record.
"What's special is winning the tournament, not beating Federer," said Nadal's uncle and coach, Toni. "But if Rafael beats Federer, it means more."
Federer is 6-10 overall against Nadal, including 1-8 on clay and 0-3 at the French Open, where they also met in the 2005 semifinals.
"I will try everything," Federer said. "I hope I will finally win here."
Nadal hasn't lost at Roland Garros. Ever. He improved to 27-0 by beating Djokovic, who won the Australian Open in January.
Copyright 2018 The Lawrence Journal-World. All rights reserved. This material may not be published, broadcast, rewritten or redistributed. We strive to uphold our values for every story published.