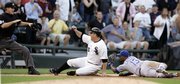 Chicago — Jose Contreras didn't have his best pitch, the split-finger fastball, and against the woeful Royals he didn't need it.
Contreras won his fourth straight decision, and Jim Thome homered as the resurgent Chicago White Sox beat Kansas City, 6-2, Thursday night to complete a three-game sweep.
Orlando Cabrera's two-run single capped a four-run second inning for the first-place White Sox, who came home in turmoil this week after manager Ozzie Guillen called out his hitters and general manager Kenny Williams on Sunday following a frustrating series at Tampa Bay.
Things turned around quickly for the flagging White Sox hitters. It turns out they just needed to come home and face Kansas City pitching.
The sloppy Royals (23-37) committed two errors and could have been charged with more. They lost their 11th straight road game, one shy of the franchise record, and have dropped 15 of 17 overall.
"I'm frustrated," Royals manager Trey Hillman said. "I'm upset that we can't figure out the process a little quicker."
Copyright 2018 The Associated Press. All rights reserved. This material may not be published, broadcast, rewritten or redistributed. We strive to uphold our values for every story published.