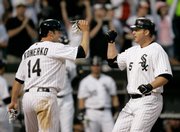 Chicago — Paul Konerko was just glad he put an end to the game. Now he hopes he can halt his season-long slump, too.
Konerko hit a two-run homer in the 15th inning Wednesday night, sending the Chicago White Sox to a 6-4 victory over the Kansas City Royals.
His teammates went a little nuts in celebration.
"I felt like a rookie again," Konerko said. "I got a pie in my face, I got champagne and beer and whatever the heck on my head and all that. I have to go back to the trainer now. Toby Hall got me pretty good with some shaving cream, and I got to get it (his eye) cleaned out."
Konerko, batting only .198 when he came up against Jimmy Gobble (0-1), hit his seventh homer, a drive to left field to score Carlos Quentin, who had drawn a leadoff walk.
Konerko is now 5-for-6 with four homers in his career against the Royals' left-hander.
"I can't say I was even happy, more just like relief because we won the game, and it was over, and I did something positive for the team," Konerko said.
Bothered by a sore right hand, Konerko managed just one homer in May and was in an 11-for-73 skid when he connected for the game-winner.
Copyright 2018 The Lawrence Journal-World. All rights reserved. This material may not be published, broadcast, rewritten or redistributed. We strive to uphold our values for every story published.