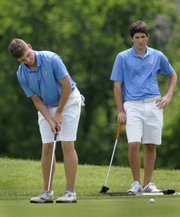 Monday night rains made for some long holes and high scores on the opening day of stroke play at the Kansas Golf Association Four-Ball Championship.
It was most obvious for golfers playing Alvamar Country Club.
"It seemed like we spun every shot and couldn't get it close. We had to hit it above the hole and hope it spun back," said Jeff Bell, who added the afternoon winds contributed to the high scores. "I noticed a lot of times I'd hit my drive and then my ball would end up right next to the pitch mark that it made in the fairway and just had no roll."
Bell, a Kansas University student, and teammate Travis Deckert, a recent graduate of Wichita Heights High School, turned in the top score on the private side with a 6-under 66.
Deckert and Bell comprised one of just six teams in the Open Division to shoot under-par at Alvamar Country Club. Twenty-five teams in the Open Division played the private side on the opening day of stroke play.
"When you start birdie, birdie, birdie, it really helps your round," Deckert said. "We were 7-under through 11 and kind of struggled from then on."
John Hess and Aaron Sheaks apparently weren't affected by the overnight rain. Hess and Sheaks tamed Alvamar Golf Course with a 7-under 64 and hold a four-shot advantage over the field.
The public side wasn't quite as generous for the top teams from 2007. Defending champs Chad Roesler and Conrad Roberts turned in 70 on their scorecard and are tied for 20th. Thirty-two teams make the cut.
"We didn't play very well today for 18 holes," said Roberts, who was 3-under at one point in the round.
Last year's runners-up, Ty Sanders and Cameron Bishop, are positioned one stroke ahead of the former KU golfers with their 2-under 69.
"We didn't do anything really good and didn't do anything really bad," Sanders said. "We had trouble getting into a rhythm. About the eighth hole, they told us we were behind our time and a couple of teams got strokes (penalties), so we had to pick it up real fast, and I think on the back nine we just felt rushed and never got into rhythm."
Roesler and Roberts will pair up with Sanders and Bishop in the foursome to tee off at 8:50 a.m. today on the private side.
"We're playing with people who I know have played it," said Sanders, who never has played on Alvamar Country Club. "Hopefully we learn something from them (today)."
Gene Bowden and Brent Bahner are tied with Gary Lucas and Mike Grosdidier for the top spot in the Masters Division. Each pair shot a 71 on Tuesday and were the only two teams in the 16-team Masters Division to break par.
Copyright 2018 The Lawrence Journal-World. All rights reserved. This material may not be published, broadcast, rewritten or redistributed. We strive to uphold our values for every story published.