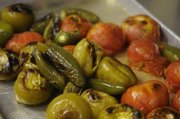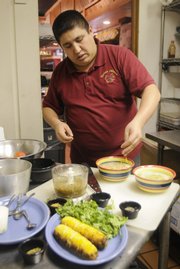 Past Event
When: Saturday, August 2, 2008, 8:15 a.m. to 10 a.m.
Where: Farmers Market (8th and N.H.), 8th and New Hampshire streets, Lawrence
Cost: Free
-->
-->
Tomatoes. Tomatillos. Jalapenos. Onion. Corn. Cilantro. Garlic. Spices.
This Saturday, shoppers at the Lawrence Farmers' Market can test all of these ingredients combined just for them into one of many flavorful, local concoctions at the market's "Salsalicious" event.
Three restaurant owners - Kate Gonzalez of Global Cafe, 820 Mass., Alejandro Lule of La Parrilla, 814 Mass., and Angel Alvarez of Tortas Jalisco, 534 Frontier Road, will prepare fresh salsa for marketgoers using mostly ingredients from the market itself.
It's also timely. A potent strain of salmonella this summer had investigators looking at tomatoes, jalapenos and cilantro - three key salsa ingredients - as culprits.
Mercedes Taylor-Puckett, market coordinator, says that for those who are worried about getting the bug, local ingredients, such as the ones used by the chefs on Saturday, are the way to go and still have the salsa you love.
The event will combine the cooking demonstrations with the popular salsa contest from last year. Those interested in competing can download an application from www.lawrencefarmersmarket.com or make the salsa and fill out the form before judging at 8:45 a.m. Winners in each division will win gift cards or market tokens, Taylor-Puckett says.
Gonzalez, of Global Cafe, says that for those who usually pop open a jar of salsa instead of trying to make it because they believe it might be too hard, she's glad to show just how easy it can be.
"There are things that anybody can do and they can get all of their stuff at the market and just go home and make something really good," Gonzalez says. "That's, you know, fun and easy."
Different methods
Salsa success depends on knowing how to improvise, Gonzalez says. She likes to use the "everything but the kitchen sink" method to making her red sauce.
"I don't usually use recipes. It's more of a creative explosion. My dad owned a southwestern restaurant for (around) five years, and I learned a lot about making salsa from him - but I never really follow a recipe," Gonzalez says. "Sometimes it's 'a whatever is in the fridge' kind of deal, because salsa is easy and good like that."
Gonzalez says that in addition to whatever is in the fridge, she also will throw in cilantro, her favorite salsa ingredient. Most of the time, she's making a roasted salsa that she sells at the market, where she is the "tamale lady." But when she's making it just for herself, she'll stick with salsa that's as raw as possible.
"I prefer that refreshing, cold, chunked salsa," she says.
Seasonal salsa
Alvarez, of Tortas Jalisco, has a bit more of a controlled method to making his salsas, though he admits he also doesn't use recipes. He just adjusts his sauces - in fact everything at his restaurant - based on what the ingredients are available each day.
Alvarez plans to make three different salsas for the event - a chunky pico de gallo, a green salsa and a roasted salsa. He says it shows that anyone can tailor a salsa to his or her taste - hot, mild, raw, roasted, red, green, chunky or thin.
"I tried to make three different salsas (that are) really simple and really different. Totally different flavors, different colors," Alvarez says. "I tried to use the things they grow around here, so basically tomatoes, jalapenos, cilantro and onions and garlic."
No matter how you like it, Gonzalez recommends trying to learn now while the ingredients you're most likely to use are in season.
"Tomatoes off the vine are so much better," she says. "Salsa in December just isn't the same."
Copyright 2018 The Lawrence Journal-World. All rights reserved. This material may not be published, broadcast, rewritten or redistributed. We strive to uphold our values for every story published.