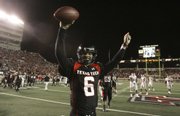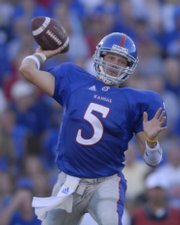 Kansas City, Mo. — It wasn't always like this, understand.
There was a time - not so long ago - that cornerbacks still had a fighting chance. Defensive coordinators still had their hair, and a running back could still hope to make a decent living in this league.
Then, overnight it seems, things began to change. Like unruly outlaws, a contingent of young men began to descend upon college campuses across the Midwest. They had names like Chase and Todd and Graham and Colt, and together, they began to do amazing things with a football. They passed for unfathomable amounts of yardage. They fired touchdowns at an alarming rate. They glanced over their conference's record book, and then, without much effort, began rewriting it.
As we stand here, on the brink of the 2008 college football season, we are staring out onto a brave new world of Big 12 football.
One in which quarterbacks, in ways we've never before seen, are altering the landscape of the league.
Sign No. 1 that the Big 12 has the best collection of quarterbacks of any conference in the country: Stats don't lie.
According to the Web site NationalChamps.net, which recently calculated the passing numbers of every BCS conference's starting quarterbacks since 2000, the Big 12 in '07 ranked as the best of the new millennium with a quarterback average of 3,176 yards-per-season.
Last year, Missouri's Chase Daniel alone threw for 4,306. Kansas' Todd Reesing added 3,486 and Oklahoma freshman Sam Bradford, in addition to setting the NCAA freshman single-season touchdown record, chipped in 3,121.
In all, seven of the Big 12's quarterbacks finished with at least 3,000 total passing yards last season. Four conference programs broke single-season school records for passing. And entering the 2008 season, as more and more teams move toward the pass-heavy spread attacks, the league is stronger and deeper at the position than it's ever been.
Perhaps Kansas University coach Mark Mangino puts it best.
Asked recently to pick his favorite Big 12 quarterback, Mangino replied, "That's like going to a Mercedes dealer and picking out what color you want."
Sign No. 17 that the Big 12 has the best collection of quarterbacks of any conference in the country: The Graham Harrell conundrum.
Not many conferences exist in which a quarterback can lead the nation in passing yards and touchdowns thrown and fail to be named the league's best player at his position.
This is very much the situation of Texas Tech's Graham Harrell, however, who threw for 5,705 yards and 48 touchdowns last season but earned only second-team all-Big 12 honors (behind Daniel) and barely received a second look in the race for the Heisman.
Harrell, a senior this year, represents a statistical wunderkind. Assuming he stays on his current pace - and avoids injury - he could very well own the conference records for yards gained in a career, passing yards in a career, completions in a career and completion percentage in a career by the end of the 2008 season.
What's more, he averaged 438.8 yards per game in '07, to go along with four rushing touchdowns and a 71.8 completion percentage.
"I think one of his strengths," Red Raiders coach Mike Leach said, "is he really doesn't have any weaknesses."
Sign No. 45 that the Big 12 has the best collection of quarterbacks of any conference in the country: They're good. And they know it.
Nearly every quarterback present at last week's Big 12 Media Days in Kansas City, Mo., said that you'd be hard-pressed to find a better collection of gunslingers in college football.
"I think we have the most depth in the country," said Nebraska quarterback Joe Ganz, who threw 15 touchdowns in three starts last season. "I don't know if we have the most NFL potential, but top to bottom, I think we're the best quarterback conference (in the nation)."
Missouri's Daniel, the reigning Big 12 offensive player of the year, went a step further. Asked to name the single best quarterback in the Big 12, Daniel chose Chase Daniel. And he used the word "obviously."
Told of Daniel's proclamation, Texas quarterback Colt McCoy, who has grown used to Daniel's brash nature as the two have forged a recent friendship, smiled.
"Yeah, he probably would say that," McCoy said.
Sign No. 118 that the Big 12 Conference has the best collection of quarterbacks in the country: They routinely make some of the nation's top defensive backs look silly.
It used to be, a Big 12 defensive back could look forward to a "down week" every now and then. A game against a team whose passing game lacked pop. Who didn't feature a quarterback with the potential to throw for 400 yards against you.
Weeks like this don't seem to exist much anymore.
"From a defensive standpoint, you have to try to build a game plan for every (individual) quarterback," Missouri preseason all-American safety William Moore said, "because every quarterback can do something different."
Indeed. What makes the league's top tier of quarterbacks - Daniel, Bradford, Reesing and Harrell - so effective is that each appears virtually immune to mental lapse. Combined, those four threw just 40 interceptions in 2007 - compared with 150 touchdowns - while each showed an ability to perform in the clutch.
In the process, they've made life miserable for the league's secondary units.
"With (guys like) Reesing, Daniel, McCoy, they just pick you apart," says Oklahoma defensive back Nic Harris, an all-Big 12 first-team selection as a junior in '07. "There's just an extremely small margin for error."
Sign No. 256 that the Big 12 has the best collection of quarterbacks of any conference in the country: Even the conference's middle-of-the-pack signal-callers are game-changers.
Last season, Texas' McCoy passed for 3,303 yards, the second-highest total ever by a Texas quarterback. Down the road in Manhattan, Kansas State's Josh Freeman threw for 3,353 yards and 18 touchdowns in his second season as a starter. Oklahoma State's Zac Robinson and Colorado's Cody Hawkins, meanwhile, each topped 2,800 yards and 20 touchdowns in their first seasons as starters.
The list goes on.
The question, of course, is whether these quarterbacks will be able to duplicate last season's success. As offenses have constantly evolved, defenses have desperately tried to catch up. It's only a matter of time, coaches say, before they do.
If this is the case, they'd better hurry.
With a month remaining before the 2008 campaign kicks off, the statistic of note seems to be "10."
As in, out of the dozen starting quarterbacks responsible for the Big 12 Conference's record-setting 2007 season, 10 will be returning this year.
Copyright 2018 The Lawrence Journal-World. All rights reserved. This material may not be published, broadcast, rewritten or redistributed. We strive to uphold our values for every story published.