Photo Gallery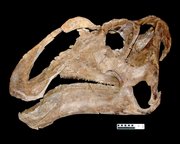 Newly named species
All three of these were discovered in 2007 and are part of the top 10 new species list compiled by the International Institute for Species Exploration at Arizona State University.
This week, state officials issued their list of most popular baby names in the state during 2007.
Aiden topped the boys' list, and Addison was the most common female name.
When it comes to naming children or even pets, there is plenty of advice out there. Books, Web sites and celebrity rags abound with ideas. And there are plenty of parents choosing the same names, as lists of popular baby names prove.
Now, imagine you're a scientist, and your "baby" is a plant or animal you've discovered for the first time. Not only are there no cute naming Web sites available, you have to choose a name that's never been chosen before.
Oh, and by the way, there isn't even an official database of every named animal.
"Nobody keeps a list," Daphne Fautin says. "There is nowhere in the world you can go and find a list of all the plants or all the animals in the world."
Fautin knows a thing or two about naming new plants and animals. The Kansas University professor of ecology and evolutionary biology is a member of the International Commission on Zoological Nomenclature, the "supreme court" of animal names. When there is a dispute over the naming of a creature, the commission and Fautin vote on what to do.
And the name game is a problem that comes up more often than you might think - there were 17,000 new species named in 2007 alone.
The pressure
The naming of a new species or genus isn't a simple process. It can take years to prove that what you found is new, to catalog its differences, research it, find the right name, make sure that name hasn't been used before and prepare a paper for peer review so that your find can be properly introduced to the scientific world.
David McLeod, a KU graduate student in ecology and evolutionary biology, has felt that pressure. He named a small, tree-dwelling frog he found in Thailand. Going through the rigmarole of getting the frog properly described and written up took a year of racing against other scientists who had also found the creature.
"A (big) fear for me was that somebody else was going to beat me to it because I knew other people had found the little tree frog - I knew other people had seen it in photographs, and I was like, 'Somebody's going to name this thing before me!'"
To be officially "discovered" by experts, the animal, like McLeod's frog - Theloderma licin - must be written up and introduced in an official publication so that it can be reviewed by peers who can say - yes, "it's new," or no, "I discovered it 10 years ago."
For the record, the frog's name means "smooth" in Malay, since the hopper has smooth skin and McLeod was working on the project with Malaysian colleagues.
Creative options
But that's not to say all of the names are so conventional. McLeod has even heard of colleagues naming animals after rock bands.
"It's really up to the individual how they do it," he says. "I have colleagues who name animals after people who have funded their research, so it's kind of a negotiation that if you'll fund the work, I'll name a new species after you.
"Other people name it after friends or relatives, or there's a whole set of rules that the International Code of Zoological Nomenclature, the ICZN, and that governs how you name things. But you're free to choose lots of different things. You can be descriptive or funny or name it after someone or name it after someone you don't like. There are all these things that people do."
Things like Vampyroteuthis infernalis Chun (vampire squid from hell), the moth Catocala elocata (prostitute) and the puffball Lycoperdon (wolf fart) - all examples of real animals collected by Mark Isaak on his Web site, curioustaxonomy.net.
McLeod says he's seen everything from the mean to the musical in compilations of fun names.
"Naming series of organisms after girlfriends or naming these really ugly, nasty things after people they didn't like," McLeod says.
Or they choose to name species after people they know - and actually like. Fautin, the KU professor, has named 22 new sea anemones, and the names include nods to her husband, Bob Buddemeier (Anthopleura buddemeieri), and a beloved professor, Cadet Hand (Anthopleura handi).
Retired KU professor Charles Michener, who has identified and named countless bees during his 66-year career, often has gone the historical route when picking names for new bees.
"I've named them after specialists in bees who were active decades or centuries ago," says Michener, who has also gone the way of naming them after other people, places or the flowers they visit. Though, he says, he tries not to keep going back to the same naming device.
"I've tried to avoid those ruts," he says.
And when there's a debate over naming? There's always Fautin's "supreme court."
She says there are about 50 to 80 appeals per year that make it to the top level of discussion by the International Commission on Zoological Nomenclature - which makes up a small percentage of animals named.
And though the appeals take time and thought, Fautin says that she appreciates them. Each appeal means people are out in the field finding new life on earth.
"One of the problems in the world today is there are so many unstudied groups and taxonomy is not a popular field, so I would say more taxonomists are dying than are being trained," Fautin says. "There are groups of animals for which there are no taxonomists on Earth, which is really very scary."
Copyright 2018 The Lawrence Journal-World. All rights reserved. This material may not be published, broadcast, rewritten or redistributed. We strive to uphold our values for every story published.