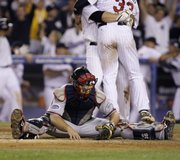 New York — Marquee starters were long gone. So were nearly all the other pitchers.
His bullpen empty, National League manager Clint Hurdle approached David Wright and asked whether he had the right stuff to take the mound and close out the All-Star game. Did the New York Mets third baseman think chief operating officer Jeff Wilpon or general manager Omar Minaya would mind?
"Don't worry," Wright remembered saying. "They're probably sleeping by now. Nobody will know."
What began Tuesday night as a matchup between Ben Sheets and Cliff Lee nearly ended Wednesday with Wright pitching for the NL and Boston Red Sox right fielder J.D. Drew toeing the rubber for the American League.
Just as that possibility was becoming very real, Justin Morneau slid home just in time on Michael Young's sacrifice fly in the 15th inning, giving the AL a 4-3 victory that extended its unbeaten streak to 12.
Minaya was happy it didn't come down to Wright's pitching prowess.
"I would have a problem with one of our position players pitching in an All-Star game, there's no doubt," he said.
Yankee Stadium, playing host to its final All-Star game, was the stage for a 4-hour, 50-minute marathon that ended at 1:37 a.m EST. Given the ticket prices - $525-$725 in the lower deck, $150 in the bleachers - fans deserved something extra. They got it.
"Anyone who needed proof that Yankee Stadium is the grandest stage in baseball got it last night," Yankees owner George Steinbrenner said in a statement. "The 2008 All-Star game was one of the greatest experiences in my life and in franchise history."
Many of the 49 Hall of Famers honored during pregame pageantry likely were in bed by the final out. There would be no repeat of 2002's 7-7, 11-inning tie in Milwaukee, which caused commissioner Bud Selig to expand the rosters.
"The commissioner has made it clear: He didn't care if it was 25 innings. The game was being played to conclusion," said Bob DuPuy, baseball's chief operating officer.
Wright guessed he hadn't pitched since Little League.
"I would have made up stuff on the mound," he said Wednesday through team spokesman Jay Horwitz. "In a way, I wish it would have happened. It would have been a thrill for me to remember for the rest of my life."
Phillies closer Brad Lidge, who had thrown about 100 warmup pitches in the bullpen, pitched the 15th for the NL. He maybe could have gone another inning. Scott Kazmir entered in the 15th for the AL, two days after a 104-pitch outing for the Rays. He had only an inning or so left.
"We were going to go on hours, not pitches," AL manager Terry Francona said.
Hurdle had used every player on his roster except Giants pitcher Tim Lincecum, who was too sick to play. Francona had used all 32 of his players on his roster.
"The only thing I could think to do was put (DH Evan) Longoria in the game and pitch J.D.," Francona said. "But we were still a little ways away from that."
Drew has volunteered to pitch in an emergency for the Red Sox, but Francona never has taken him up on the offer.
"I would have thrown some stuff up there," Drew said. "I got a little sneaky stuff here and there. I don't know if I would have got anybody out."
For Francona, this took on the stress of a game that counts in the standings.
"I told Jim Leyland, 'I'll quit cursing, I'll quit chewing,"' he said, referring to the Detroit manager who was part of his coaching staff. "I lied."
The NL was given a pregame pep talk by Hall of Famer Ernie Banks, whose motto is: "Let's play two!" And they nearly did, matching the NL's 2-1 win at Anaheim in 1967 for the longest All-Star game.
By the 13th inning, MLB dispatched senior vice president Joe Garagiola Jr. to remind the managers that the game would be played until there was a winner.
"I was doing Chinese arithmetic from the sixth inning on," Hurdle said. "I felt like I was in algebra class. It got wild."
By the way, baseball's labor contract makes no provision for home-field advantage in the World Series if there isn't an All-Star winner.
Copyright 2018 The Associated Press. All rights reserved. This material may not be published, broadcast, rewritten or redistributed. We strive to uphold our values for every story published.