Big 12 Spotlight podcast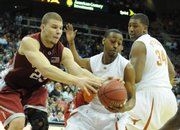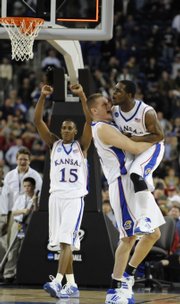 What Keegan says
Texas was loaded when Mario Chalmers, Brandon Rush and Julian Wright were freshmen. The Longhorns had P.J. Tucker, LaMarcus Aldridge and Daniel Gibson. Still, KU, relying mostly on freshmen and sophomores, played UT to a tie in the Big 12 regular season, then avenged the loss and won the Big 12 title.
It's Oklahoma that's loaded now the way Texas was then. Oklahoma's the favorite with good reason, but don't count out Kansas again doing with a young roster what it did in the 2005-2006 season.
In Sherron Collins, KU has a potential first-team All-American. If the Morris twins qualify, they will help Cole Aldrich. Bill Self will have a number of perimeter players from which to choose, including do-it-all Mario Little, the top-ranked junior-college player in the nation.
- Tom Keegan
Rivals poll
Here's the Rivals.com Preseason Top 25 Poll:
1. North Carolina2. Connecticut3. Pittsburgh4. Purdue5. Notre Dame6. Duke7. Oklahoma8. Louisville9. UCLA10. Tennessee11. Georgetown12. Michigan State13. Gonzaga14. Texas15. Memphis16. Kansas17. Villanova18. Wake Forest19. Florida20. Marquette21. USC22. Davidson23. UNLV24. West Virginia25. Arizona
Others considered (listed alphabetically): Arizona State, Baylor, Kentucky, Miami, Ohio State, San Diego, Wisconsin, Xavier
OK, so the 2008-2009 men's college basketball season is 31â2 months away. But we know which key players from the Big 12 Conference left early for the NBA Draft and which key players stayed in school.
Rosters are beginning to take shape. Incoming freshmen, for the most part, have arrived on their campuses.
Heck, there's even a preseason 2008-2009 poll, courtesy of Rivals.com, to make hoops zealots across the nation more pumped for next season than Tony Parker watching "Desperate Housewives" in high definition.
The Rivals poll tabbed three Big 12 teams in the Top 25: Oklahoma (7), Texas (14) and defending national champion Kansas (16).
Here's a breakdown of each Big 12 school and its outlook for next season:
Oklahoma
Key players lost: C Longar Longar, G David Godbold.
Key newcomers: PG Willie Warren.
What it means: The losses of Longar and Godbold don't mean much, if anything, when you consider Blake Griffin's decision to stay in Norman for his sophomore season, along with Warren, a rare five-star recruit the team labeled as the most anticipated recruit in the history of Oklahoma basketball. Griffin, arguably the best returning Big 12 player, establishing his power near the basket, combined with Warren's perimeter prowess, should make the Sooners a Big 12 favorite. Expectations for coach Jeff Capel will be to eclipse last year's trip to the second round of the NCAA Tournament.
Texas
Key players lost: G D.J. Augustin.
Key newcomers: G J'Covan Brown, G Varez Ward.
What it means: Augustin's absence is big, but Texas still returns four starters. Damion James should average close to a double-double in points and rebounds, while A.J. Abrams could be the most clutch shooter in the conference next season. Getting back to the Elite Eight will be difficult, but the experience is there.
Kansas
Key players lost: G/F Brandon Rush, F Darrell Arthur, G Mario Chalmers, F Darnell Jackson, F/C Sasha Kaun, G Russell Robinson.
Key newcomers: F Marcus Morris, F Markieff Morris, G Travis Releford, G Tyrone Appleton, F Mario Little, F Quintrell Thomas, G Tyshawn Taylor.
What it means: When scouts talk about a recruit's "ceiling," they're predicting the future in terms of that recruit's talent level. In many ways, KU will be like a recruit next season: young and inexperienced, but its ceiling is extremely high.
A starting five of already-proven Collins and Aldrich, plus the nation's No. 1-rated junior-college transfer in Little, one of KU coach Bill Self's most anticipated recruits to Lawrence yet in Marcus Morris, plus a shooting guard (Travis Releford or Tyshawn Taylor) doesn't sound as bad as some might think after losing all five starters from the title team. Expect KU to challenge for its seventh Big 12 regular-season crown in eight years.
Baylor
Key players lost: G Aaron Bruce.
Key newcomers: SF Anthony Jones.
What it means: The Bears could be scary next year, considering the following returning players: Curtis Jerrells, Kevin Rogers, LaceDarius Dunn and Tweety Carter. BU is a perimeter-oriented team and will continue to hold this identity. With so much experience returning, plus the four-star recruit in Jones, Baylor could challenge Oklahoma, Texas and Kansas for the Big 12 title.
Missouri
Key players lost: G Keon Lawrence (transferred to Seton Hall), G Stefhon Hannah, G Jason Horton.
Key newcomers: G Miguel Paul, F Laurence Bowers.
What it means: Rivals.com ranked Paul as the incoming Big 12 freshman with the most speed. Missouri should stay true to coach Mike Anderson's quick pace of play, but the Tigers still don't have enough playmakers to challenge for a Big 12 crown.
Nebraska
Key players lost: C Aleks Maric, G Jay-R Strowbridge (transferred to Jacksonville State).
Key newcomers: G Eshaunte Jones.
What it means: Losing Maric's 15 points and 10 rebounds per game is significant, but the Big 12 North is weak enough for Nebraska to challenge for the second spot.
Kansas State
Key players lost: F Michael Beasley, F Bill Walker, F David Hoskins, G Clent Stewart, G Blake Young.
Key newcomers: F Curtis Kelly (University of Connecticut transfer; must sit out next season).
What it means: Well, virtually everything. Sophomore point guard Jacob Pullen is the only returning player who averaged more than 3.9 points per game last season.
Colorado
Key players lost: G Richard Roby, G Marcus Hall.
Key newcomers: F Toby Veal.
What it means: Rivals.com ranked Veal as the best incoming freshman leaper in the Big 12. Whether he can mold that athletic ability into a basketball setting has yet to be seen.
Iowa State
Key players lost: F Wesley Johnson (transferred to Syracuse), C Jiri Hubalek.
Key newcomers: G Dominique Buckley, G Wes Eikmeier.
What it means: Johnson and Hubalek led the Cyclones with 12.4 points per game last year. Time to rebuild.
Oklahoma State
Key players lost: G/F Marcus Dove.
Key newcomers: None.
What it means: With the return of Byron Eaton, James Anderson and Obi Muonelo, the Cowboys should have no problem erasing last season's NIT memory with an NCAA Tournament berth. Competing for the Big 12 title, however, is far-fetched.
Texas A&M;
Key players lost: C DeAndre Jordan, F/C Joseph Jones, G Dominique Kirk.
Key newcomers: PG Dashan Harris, PF David Loubeau.
What it means: Jordan didn't give the Aggies valuable minutes in the first place, but Jones and Kirk are significant losses.
Texas Tech
Key players lost: G Martin Zeno.
Key newcomers: None.
What it means: Returning senior Alan Voskuil will have to shoulder the majority of the scoring load.
Copyright 2018 The Lawrence Journal-World. All rights reserved. This material may not be published, broadcast, rewritten or redistributed. We strive to uphold our values for every story published.