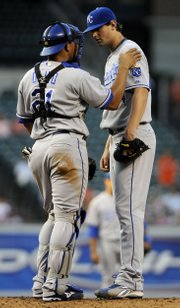 Baltimore — George Sherrill would have been happy with a night off.
The Baltimore Orioles closer had blown two straight save opportunities by yielding late-inning home runs, yet circumstances called for the left-hander to hold on to a ninth-inning lead against the Kansas City Royals.
Fortunately, Sherrill had plenty of margin for error.
Despite surrendering a two-run single, Sherrill earned his 27th save by getting the final two outs in a 7-5 victory Tuesday night.
Brian Roberts homered, and Ramon Hernandez and Adam Jones had two RBIs apiece, but Baltimore's most notable accomplishment was that of Sherrill. After giving away victories Sunday and Monday, he got the job done pitching in a third straight game.
"It's good to get this win and get the last two out of my system," he said.
Sherrill entered with two on, one out and Baltimore up 7-3. After retiring Mike Aviles on a grounder, he yielded a two-run single to Mark Grudzielanek before striking out Alex Gordon.
Dennis Sarfate started the ninth inning, but was lifted after giving up two walks. Asked if he was itching to get in the game, Sherrill said, "Two percent yes, 98 percent no, just to see (Sarfate) do well. It (stinks) to see him struggle, but so be it. I got in there and put it behind me."
On a night when fans received a Sherrill T-shirt upon entering the gate, manager Dave Trembley showed his support for the closer under his jersey.
"I think enough of George Sherrill that I wore his shirt tonight," Trembley said.
Baltimore led 6-1 after three innings, then let the margin slip to three runs before Roberts hit a solo shot in the seventh off reliever Jimmy Gobble.
Gordon and Mark Teahan homered for the Royals, whose six-game road winning streak ended. Kansas City had won 12 of 15 overall, including Monday night's comeback victory over the Orioles.
Aviles went 0-for-5 and hit into two double plays.
"Not a whole lot went his way. He needs to get a little bit more disciplined, especially with the pitch up," manager Trey Hillman said. "They're climbing the ladder on him a little bit. He's chasing."
Baltimore starter Radhames Liz (3-0) allowed three runs and seven hits in six innings. The rookie gave up two home runs totaling 820 feet but limited the Royals to 1-for-5 production with runners in scoring position.
He was replaced by Adam Loewen, who returned from the disabled list Monday and was making his first appearance in the majors since April 24. Pitching in relief for the first time since July 21, 2006, Loewen gave up two hits in two shutout innings.
"After I got through the first inning, I just felt all the anxiety kind of melt away, all the anticipation of just getting into the game," he said. "I could relax and it felt great to come back. To contribute to a win is even better."
Royals rookie Luke Hochevar (5-6) allowed a career high-tying six runs in six innings. The right-hander was 2-0 in five starts since May 29.
Gordon hit a first-inning shot that cleared the 25-foot scoreboard in right field and traveled an estimated 425 feet. It was the 45th home run in the 17-year history of Camden Yards to land on Eutaw Street, the fifth this season.
Baltimore tied it in the bottom half when Roberts walked, stole second, went to third on a groundout and scored when Aubrey Huff singled past a drawn-in infield.
Brandon Fahey doubled in a run in the second, and the Orioles went up 6-1 with a four-run third that featured two-run singles by Hernandez and Jones.
"It's hard to win ballgames when you're giving up a four-spot in the third. And six runs in the first three innings, that's all me," Hochevar said. "We swung the bats well enough tonight to win. I didn't do a good job of keeping us in it."
After Teahan homered leading off the fifth, the Royals used three singles to load the bases with one out. Aviles followed with a fly ball to shallow center before Liz retired Grudzielanek on a liner to Roberts at second.
Kansas City closed to 6-3 in the sixth when Gordon doubled and scored on a sacrifice fly by Teahan.
Copyright 2018 The Associated Press. All rights reserved. This material may not be published, broadcast, rewritten or redistributed. We strive to uphold our values for every story published.