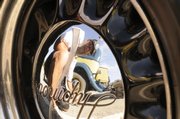 Blasts from the past rolled into Lawrence on Tuesday.
About 22 different years and models of the Hupmobile, manufactured from 1909 to 1941 in Detroit, found their way to the Dole Institute of Politics on Kansas University's West Campus.
The touring cars were celebrating the Hupmobile's 100th anniversary.
"The corporation papers were signed in 1908," said club president Jerry Robinson, of Lake Villa, Ill. "We picked Kansas as kind of a center part for everybody coming from east and west."
From coupes to sedans, Hupmobile drivers have a special bond.
"We're kind of like a family," said Hughie Montgomery, who owns two Hupmobiles and brought his 1929 Model M by trailer to Kansas from Ingersoll, Ontario. "When we first meet, it's hugs all around."
Cars came from all corners of the United States and Canada for the anniversary tour. And, for some, showing off their shiny antiques is the fun part.
"If I didn't have the touring, it wouldn't be near as much fun," said Jerry Deck, of Okemos, Mich., who owns four Hupmobiles. He said he enjoys making people smile when they see the line of old cars rolling along.
Montgomery says the tours let him travel and see things he'd never normally stop to check out.
"I've seen jelly bean factories," he said. "The Robert Dole Center - I wouldn't have stopped here if I was driving a modern car."
The group also made appearances in De Soto, and today they are heading to Atchison before returning to Topeka, where their journey started Monday.
The antique car owners are enjoying Kansas.
"You get up on a high point, and you have a real nice vista and you have more than we can ever have in Michigan," Deck said.
Montgomery says he likes everywhere he's toured, but Kansas reminds him of southern Ontario.
"It's a lovely drive," he said.
Copyright 2018 The Lawrence Journal-World. All rights reserved. This material may not be published, broadcast, rewritten or redistributed. We strive to uphold our values for every story published.