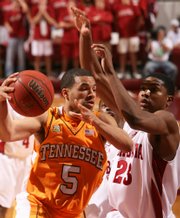 Tuscaloosa, Ala. — Chris Lofton and JaJuan Smith got hot from the outside in plenty of time to bail No. 7 Tennessee out of serious trouble.
Lofton had five three-pointers and 23 points and Smith added four threes and 22 points to lead the Vols to victory over Alabama on Tuesday night.
The Volunteers (18-2, 5-1 Southeastern Conference) blew most of a 10-point lead but went 9-of-12 from three-point range in the second half.
The Tide (12-9, 1-5) managed to pull within two points five times in the final 7 minutes, but never grabbed the lead.
No. 17 Marquette 62, South Florida 54
Milwaukee - Lazar Hayward scored a career-high 23 points and No. 17 Marquette held off an upset bid by South Florida.
Wesley Matthews added 16 points for the Golden Eagles (15-4, 5-3 Big East), including three late 3-pointers that helped put the game away.
Marquette's win came despite limited contributions from leading scorer Dominic James, who appeared to take a forearm in the gut early on and played only 6 minutes in the first half.
James sat out the first 6 minutes of the second half and finished with three points.
Copyright 2018 The Associated Press. All rights reserved. This material may not be published, broadcast, rewritten or redistributed. We strive to uphold our values for every story published.