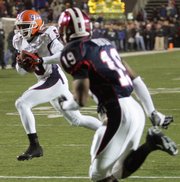 Mobile, Ala. — For once, Andre Caldwell and Erik Ainge had a dramatic finish that both could cheer.
Florida's Caldwell scored on a two-yard end around off a handoff from Tennessee's Ainge on the final play of the Senior Bowl to cap a 14-play, 86-yard final drive and lift the South to a 17-16 win over the North on Saturday.
After careers spent battling for the Southeastern Conference Eastern Division in a bitter rivalry, they made for an odd pairing on the winning play.
"It's fun to end your college career like that," said Ainge, whose 13-of-21 passing and 159 yards all came in the second half. "I'll remember handing the ball to a Gator to win for the rest of my life."
Caldwell plunged into the end zone, getting hit by Terrence Wheatley at the goal line, and promptly celebrated the fourth-down score with a Gator chomp. Georgia's Brandon Coutu then made the extra point.
"I knew I was going to get hit," Caldwell said. "I just lowered my head. To get in the end zone was a great feeling."
Copyright 2018 The Associated Press. All rights reserved. This material may not be published, broadcast, rewritten or redistributed. We strive to uphold our values for every story published.