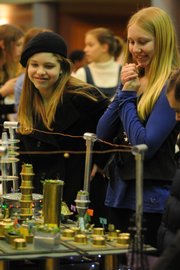 In the distant future, cities will be built on multiple levels. They will sustain humans in space, as people create dwellings in gravity-mimicking spheres. And towns like Greensburg will draw power from the Sahara Desert.
That's according to hundreds of middle school students who filled Kansas University's Kansas Union on Saturday for the Future City Competition, organized by the National Engineers Week Foundation.
Forty-seven teams of seventh- and eighth-graders - many of them in gifted programs - from Kansas and the Kansas City area displayed enormous dioramas of make-believe cities they conceived, designed and engineered, all vying for a trip to Washington, D.C., to participate in the national competition next month. Their projects were judged by engineers from Kansas from the professional and academic ranks.
"The cities are based on real problems," said C.W. Harper, coordinator for the National Engineers Week's Great Plains Region. "The thing I like about the project is they have a $100 budget. A lot of it is about innovative use of stuff they picked out of the trash, and that's how they build the model. There's a lot of innovation there."
Students from Lawrence's West Junior High School envisioned a civilization in outer space, where humans may live in the year 2501. Their city, Sol Civitas, features a transport system powered by electromagnetic propulsion, and it runs on solar and fuel-cell energy.
"We came up with lots of ideas," said eighth-grader Anna Dietz. "We really liked space."
But there was dissent among the five students about just where in the universe the society would be.
"Almost all of our ideas came as a compromise, because we all had different ideas," said Jacob Craft, also an eighth-grader.
In addition to developing the logistics of how a space-age community would be built, they considered the societal constructs. At first, the community would be made of scientists, but it would be a destination for humans looking to escape an overpopulated and polluted earth. Education through college would be a requirement for Sol Civitans.
The project taught the students how to work as a group, and it let them discover the excitement of engineering.
"I've always been interested in engineering," Jacob said. "This is pretty cool because I got to see what it was like to build a city. I liked learning how much work it took to build a city."
A second West Junior High team exhibited their city, Arethusa, an Australian civilization that is an environmental utopia, requiring factories to turn pollution into energy.
That team won third place overall, as well as the Penny Pincher Award, for best use of the $100 budget, said Pamela Simpson, gifted facilitator at West Junior High.
The competition allows students to be exposed to engineering while envisioning societies in innovative ways, Harper said.
"A lot of the ideas do have some real-world potential," he said. "It might not be something I see in my lifetime. They're thinking so far out in the future, a lot of those ideas will have potential."
The cities were constructed using household items ranging from colanders to discarded soda bottles to egg cartons. A dapple of paint here and mold of clay there set the stage for cities that would seem in place in a science-fiction film.
One group of young engineers, from Trailridge Middle School in Overland Park, shared the blueprints for their vision of Greensburg 100 years in the future. They visited the city, which was leveled by a tornado in May, and talked to students and residents about what they hoped their city would become.
Today, Greensburg is being rebuilt as a sustainable city - a project called Greensburg GreenTown - and the students' display included ways for future residents to use energy harvested from the Sahara Desert while living in houses that produce zero emissions.
"I really like the idea that we're rebuilding it for something real," said eighth-grader Charles King Hagen. "That's real practical for everything. You have to work with your clients, and we took that into consideration when we designed this model."
The Westridge team was awarded first place in the competition, meaning its rendering of Greensburg won team members a trip to Washington, where they will compete against winners from 39 other districts nationwide. The national competition is during Engineers Week, Feb. 18 to 20.
Copyright 2018 The Lawrence Journal-World. All rights reserved. This material may not be published, broadcast, rewritten or redistributed. We strive to uphold our values for every story published.