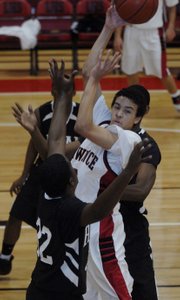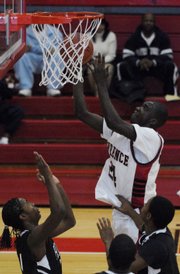 Lawrence High point guard Dorian Green's first-half shooting performance was so hot Friday night against K.C. Hogan, meteorologists likely would have had him to thank if it didn't snow this week.
The junior made all eight of his shots in the opening two quarters, scoring 20 points on three three-pointers, a jumper in the lane and four unstoppable drives to the basket.
Unfortunately for LHS, Hogan's Marcus Denmon matched Green point for point - and got the kind of help from his teammates that Green didn't - as the Rams turned a close first half into a 95-69 pasting.
While Green was perfect from the field in the first 16 minutes, the rest of his team shot a combined 7-for-20. Still, the Lions trailed just 42-37 at the break.
But Green couldn't keep up his torrid scoring pace, and the wheels fell off for LHS soon thereafter. Hogan scored the first eight points of the third quarter, building a comfortable double-digit lead that it held onto the final 14 minutes.
LHS coach Chris Davis said the problem for his Lions recently had been getting the team's two best players - Green and 6-foot-7 center John Schneider - to play at their best in the same game. Schneider wasn't much of a factor Friday, finishing with nine points on 3-of-10 shooting.
"When we can get them both there on nights and the rest of the team can rally, we're a pretty good basketball team," Davis said. "Tonight it was Dorian's show."
Lawrence did everything it could to keep the game from turning into a track meet, going zone with a minute left in the first quarter against Hogan (12-3). The Lions ended up mired in a constant full-court sprint, though.
"The zone wasn't really our problem," said Green, who finished with a season-high 30 points on 12-of-17 shooting. "We didn't get back on defense, and that's what really killed us. We couldn't get them into a halfcourt game."
Much of that had to do with Denmon, who has committed to play at Missouri next year. The senior speed demon zipped down the court with ease, equaling Green's 30 points in about three quarters. Denmon exited the game for good with five minutes left after his final three-pointer gave Hogan a 77-50 lead.
"I thought we did a decent job of defending him, and he just stepped farther back and made another shot," Davis said.
Denmon had plenty of help in the scoring column, however. Three other Rams tallied double figures. For LHS, Preston Scheibler scored 13 points, mostly with the outcome already decided.
The game was the final nonconference contest for the Lions (6-7), who will return to Sunflower League action Friday night at Olathe East.
Copyright 2018 The Lawrence Journal-World. All rights reserved. This material may not be published, broadcast, rewritten or redistributed. We strive to uphold our values for every story published.