Baker University professor Bob Miller recalls King's 1963 "I have a dream" speech
Audio Slideshow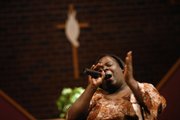 Martin Luther King Jr. Celebration
Sites and sounds from the Martin Luther King Jr. Commemorative Gospel Musical. The event took place on Sunday, January 21, 2008, at the Mustard Seed Christian Fellowship in Lawrence.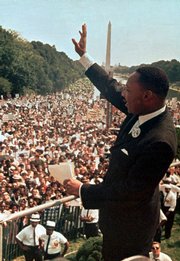 -->
Commemorative events
Today
¢ MLK Community Breakfast, 7 a.m., Maceli's, 1031 N.H. Admission is $10 at the door. Guest speaker: Bernard Kish.
¢ Commemorative Service, 7 p.m., Crafton-Preyer Theatre, Murphy Hall, 1530 Naismith Drive, Kansas University. Guest speaker, Lemuel F. Thuston, author and pastor of Boone Tabernacle Church of God in Christ, Kansas City, Mo. No charge.
Thursday
¢ Baker University Martin Luther King Jr. Celebration, 11 a.m., Osborne Chapel on Baker's Baldwin City campus. Guest speaker is the Rev. A.D. Washington, senior pastor of the Asbury Mount Olive United Methodist Church in Topeka.
Baldwin City — Like ripples in a pond from a skipping rock, one experience can bump and nudge everything that follows it.
Bob Miller knows this. The events of a sweltering hot day in August of 1963 forever mark the folds of his memory.
That's the day he heard Martin Luther King Jr. utter those prophetic words: "I have a dream."
Miller, 77, is a Baldwin City resident. He's been a professor of sociology at Baker University for 36 years.
Back in 1963, he was a first-year seminary student in Ohio when he got the chance to witness history as a participant in the March on Washington. Nearly 45 years later, as Americans celebrate a holiday devoted to King, words describing the experience march from Miller's mouth like disciplined soldiers.
"I really had no idea that this whole day was going to have such an impact on me," Miller says. "It's kind of like a hinge of personal history. There's my life before that and after that."
Perfect setting
The March on Washington was a political demonstration organized by civil rights advocates. It had three key purposes: to support the passage of the civil rights bill, to encourage President John F. Kennedy to become more active in civil rights issues, and to rejuvenate the civil rights movement.
The day before the speech, Miller and 40 others squeezed into a bus and traveled all night until arriving at the National Mall in Washington, D.C.
"All of the buses were parked around the Washington Monument and you couldn't see anything but buses for miles," Miller says. "The considered estimate on this event was 250,000 and our estimate was 500,000, or half a million. We walked off that bus and we thought, 'Oh my God, this is something special.'"
As he tells the story, Miller's voice sparks with joy and his eyes flash with memory.
"If you've ever been to D.C., oh boy," Miller says, "it's so darn impressive, and for the rights of people, there couldn't have been a better setting for Martin to give his speech."
After nosing the bus into a parking spot at a late morning hour, Miller and his group sprung from the vehicle and ambled toward the Lincoln Memorial. Security guards sprinkled the crowd, and directors guided participants forward.
There was a mix of races present, but Miller says there was a fellowship in the air that penetrated racial divisions.
'We shall overcome'
Most people were adorned in their Sunday best.
"This was a Sunday meeting, you see," Miller says. "All the guys had ties on and all the women - this sounds funny - but all the women had hats on, Sunday hats, fancy bonnets."
Large clumps of people plunged into the park as the unrelenting sun shined down, dampening their clothes with sweat. Despite being dressed formally, participants stripped their feet of shoes and dipped toes into the Reflecting Pool to alleviate the heat. Strangers sparked up conversations, sang songs and shared stories and food with each other.
"One of the challenging things that I helped do there was divide up about 4,000 peanut butter sandwiches," Miller says. "Needless to say we had to split some up quite a bit with the crowd we had, but then again that was just part of the fellowship we had going."
People held signs sporting messages in support of freedom, better jobs and improved working conditions. Before King launched into his speech, everyone held hands, prayed and sang.
Miller, who has hearing problems, wedged himself in the front of the crowd to ensure he caught every word. He stood directly in front of gospel singer Mahalia Jackson, who led everyone in "We Shall Overcome," a pivotal anthem for the civil rights movement.
"I can't sing that song, ever, without getting a little emotional about it," Miller says. "The thing about this song is that it doesn't start out 'I shall over come' or 'you shall over come.' Uh uh, no. It starts out with 'we,' and as a sociologist, I really believe that we have to act as a group to get change."
Before King took the stage, about six other people gave speeches. King, the keynote speaker, delivered his address last.
'Dream lives on'
Miller says once King started the speech, the audience belted out chants like "amen," "right on brother" and "freedom now" in response.
"This wasn't just him giving the speech, it was everyone involved, too," Miller says.
Miller was so close to King he says he felt as if he could reach out and shake his hand.
When the speech ended, people shuffled back to their vehicles, and the mass exodus began. Miller says the sun had sunk by the time they were out of the park and on the road. On the bus, everyone was brimming with energy.
"There was a natural high in the air," Miller says. "Everyone wasn't sure what had happened, but we were all real glad we were there."
But when Miller arrived back in Ohio, the mood quickly shifted. Labeled a bad role model, Miller was stripped of his position as a youth minister.
"They thought my participation was not a good thing," Miller says. "It seems kind of funny to look back on it now."
The loss didn't diminish Miller's support for civil rights. King's words and ideas still funnel through Miller's mind today, and they helped influence his decision to become a sociologist focusing on social change. He also later participated in several civil rights demonstrations and marches against the Vietnam War.
"When I left on the bus on my way back to Ohio, that's when his dream became my dream," Miller says. "He said in his speech, 'I dream that someday my children will be judged on the basis of the content of their character and not their color.' It's the dream for equality and justice for all, regardless of race or creed or sex, and that dream lives on."
Copyright 2018 The Lawrence Journal-World. All rights reserved. This material may not be published, broadcast, rewritten or redistributed. We strive to uphold our values for every story published.