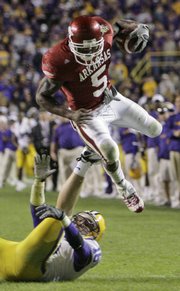 An NFL Draft rich with running backs has a new star at the head of the class: Darren McFadden.
Runner-up for the Heisman Trophy the past two seasons, McFadden announced Monday he will skip his senior season at Arkansas - along with speedy backfield-mate Felix Jones.
Wide receiver Mario Manningham (Michigan), linebacker Curtis Lofton (Oklahoma), cornerback Victor Harris (Virginia Tech), quarterback Xavier Lee (Florida State) and offensive tackle Michael Oher (Mississippi) were other notable players who revealed they are turning pro. The deadline for underclassmen to declare for the draft is today.
Meanwhile, two-time All-America linebacker James Laurinaitis said he'll stay at Ohio State for his senior year.
After twice finishing second in Heisman voting, McFadden figures to be one of the first players taken in the April draft. He and Jones join an impressive group of junior running backs available that includes Texas' Jamaal Charles, Clemson's James Davis, Illinois' Rashard Mendenhall, Rutgers' Ray Rice, West Virginia's Steve Slaton, Central Florida's Kevin Smith and Oregon's Jonathan Stewart. Matt Forte of Tulane and Mike Hart of Michigan are two of the top seniors in the draft.
"I just want to go play in the NFL," McFadden said. "Whether I went No. 1 or dead last, it'll be the same feeling for me."
McFadden ran for 1,830 yards in 2007, second on the Southeastern Conference's single-season list. He is also second on the career list with 4,590 yards rushing.
McFadden rushed for more than 1,000 yards all three seasons at Arkansas. Jones did it the last two. They were part of a backfield that also included senior fullback Peyton Hillis, another NFL prospect.
Copyright 2018 The Associated Press. All rights reserved. This material may not be published, broadcast, rewritten or redistributed. We strive to uphold our values for every story published.