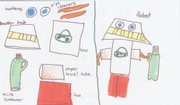 It's only taken 10 years, but Eli Schneck now has his art published in a calendar distributed nationwide.
Eli, the 10-year-old son of Marlon and Michele Schneck, Lawrence, is among 12 winners in a national contest that promotes environmental awareness and thrift among children - and get their artwork featured in the 2008 Johnny Appleseed Calendar.
Eli is a member of the Johnny Appleseed Junior Ecology Club at KU Credit Union, Lawrence. The program is sponsored by financial institutions interested in helping young people learn more about ecology and money management.
Eli's art, below left, depicts a robot made from recycled materials: buttons, a butter tub, pipe cleaners, a milk container, a paper towel tube and two boxes.
"We are very proud of Eli and all our Johnny Appleseed club members," said Ginger Wehner, assistant vice president for KU Credit Union.
Eli's art accompanies December 2008 in the calendar. Copies of the calendar are available at KU Credit Union locations in Lawrence and at other institutions with clubs nationwide.
All KU Credit Union account holders age 12 and under automatically are members of the Johnny Appleseed club. For more information about the club, visit www.kucu.org.
Copyright 2018 The Lawrence Journal-World. All rights reserved. This material may not be published, broadcast, rewritten or redistributed. We strive to uphold our values for every story published.