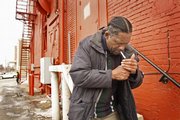 Sherman Tolbert has been in and out of jail and prison for more than 30 years.
He has been a regular abuser of alcohol and drugs. And he has been homeless virtually his entire adult life.
"I've been addicted to the streets even more than the drugs," Tolbert, 54, said during a recent interview.
Tolbert ended his most recent stint in the Douglas County Jail on Nov. 29. Convicted of threatening someone, he is now on probation for a year. He is still homeless, but said he intends to make sure he doesn't go back to jail.
"I know I've always been intelligent; I like to read and I like to learn new information," said Tolbert, an avid chess player who during warm weather months has often been seen on downtown Lawrence sidewalks with his chess set.
Tolbert would have been a prime candidate for a new inmate program jail officials hope to launch next month. It will be an intensive program involving several aspects of helping offenders re-enter everyday life outside jail.
"What we are trying to do is reduce the number of times inmates come back to us," said Ken Massey, Douglas County undersheriff in charge of the jail. "To do that we've got to implement some programs and services to give offenders the tools that will allow them to be productive in the community."
Avoiding old habits
The sheriff's office included in its 2008 budget nearly $60,000 to hire a re-entry program director. No announcement has been made about who that person will be. During the past two years Massey has been studying how a re-entry program could work and what it should cover. He attended a national roundtable discussion in Washington, D.C., about programs used elsewhere.
Jail inmates get health care, including mental health care. There are jail education programs available. But once released from jail there is no continuity of those services. Many inmates also don't have housing or jobs once they are free.
If an offender leaving jail doesn't have someone to pick them up, they get a county-paid cab ride to 11th and Massachusetts streets.
"You go back to your old hangouts and old habits," Tolbert said.
And most inmates - such as Tolbert - are addicted to alcohol and drugs. It is difficult to continue treatment for those addictions outside of jail.
The sheriff's office is working with outside agencies and community leaders to see what can be done so that services received in jail are continued in the community, Sheriff Ken McGovern said.
"We're trying to make those services a little more streamlined so (offenders) don't get frustrated and quit when they are released," he said.
If those service gaps can be eliminated it reduces the chances of former inmates recommitting crimes.
"They are more focused on trying to get their life back together on a more positive note," Massey said.
Changing mind-sets
Tolbert said he would have applied for the re-entry program if it existed when he was in jail.
"The problem Mr. Massey will have is sifting out those who truly want to change," he said.
Not every inmate will be in the re-entry program. Inmates will have to show a sincere interest in learning how to make their lives better once on the outside, Massey said. There will be benchmarks for them to meet.
"They won't be just sitting in class," he said.
County jails are used to house inmates who are serving sentences for misdemeanors. Others are awaiting trial. Most inmates convicted of felonies are sent to state prisons.
The county started discussing a re-entry program a few years ago when there was talk about expanding the jail to make room for a growing number of offenders. The program was seen as a possible alternative to reduce the number of returning offenders and thus free up jail space, McGovern said. But if successful it will take three or four years for it work, he said.
"It will take an offender a few times to get it right," Massey said. "You're not going to change their mind-set or their old habits overnight. It takes a lot of education."
Tolbert said he has not used drugs or alcohol since being released in November. He stays at the Salvation Army at night. During the day he looks for jobs in the newspaper classifieds and spends time in the library reading the Bible and chess books. He said he teaches a Bible study class at a local church, and recently worked in a kitchen at a local hotel.
Tolbert also said he stays in touch with Massey and Mike Caron, the jail's volunteer programs director. Massey has checked up on Tolbert and Tolbert said he sometimes calls Caron at the jail to talk.
"I'd like Lawrence to realize that there are a lot of people who want to change," Tolbert said, "and can change if they have the facilities once they get out of jail."
Copyright 2018 The Lawrence Journal-World. All rights reserved. This material may not be published, broadcast, rewritten or redistributed. We strive to uphold our values for every story published.