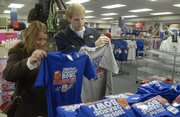 Photo Gallery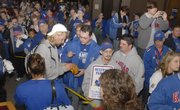 Orange Bowl: Jayhawks Return
Audio Slideshow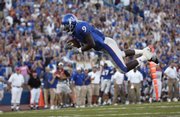 Kansas Football 2007 Year in Pictures
Relive the 2007 Kansas football season in pictures
2008 Orange Bowl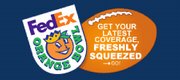 Video, photos, blogs, podcasts, latest news and more!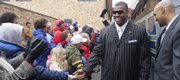 Journal-World KU reporter Jonathan Kealing is covering the fans in and on their way to Miami for the Jayhawks' first ever BCS bowl game. Check out some pitstops and potholes on the way to Miami and keep up with Journal-World Orange Bowl coverage from Miami on our interactive road trip map.
There was no time for employees to even put the new Orange Bowl champion shirts on hangers.
"We've just lined up the boxes, and people are going through them," Ryan Owens, manager and buyer at Jock's Nitch, said Friday as customers of all ages streamed through the downtown store.
Within hours of the Jayhawks 24-21 victory Thursday night against Virginia Tech in the Orange Bowl, fans began their rush on local bookstores and sporting goods stores for mementos of the historic victory. Managers reported sales comparable with a KU Final Four appearance.
KU Bookstores received nearly 100 orders for championship goods by about 7 a.m. Friday, assistant director Steve Rhodes said.
"We had orders being placed all night long," Rhodes said.
Employees for several stores reported lines Friday morning as fans waited for the shipments of the hot-off-the-presses merchandise to come in. And several store managers said they think Friday's sales were just the beginning.
"A lot of the kids are not even back into school yet," said Willie Wilkerson, manager of Jayhawk Spirit, 935 Mass. "I just think we're going to get hit twice as hard probably in the next two weeks when everybody starts coming back."
Several stores reported having T-shirts and long-sleeved shirts Friday. And some stores, such as Jayhawk Spirit, were expecting new shipments of additional items coming in during the day and such items as polo shirts and beer steins coming soon.
At Jock's Nitch, 837 Mass., Traci Pillard stood among the racks of blue clothing and held up two shirts in front of her.
"T-shirt?" she said. "Long-sleeved? Both, maybe."
Pillard and friend Amber Versola said they couldn't wait to have a piece of KU history.
"It's awesome," Versola said of the victory. "It's like the first time ever. After the game last night, we were so pumped."
Nic Anguiano, 17, a student at Topeka's Hayden High School, said he had good reason to rush out to Jock's Nitch and buy a championship T-shirt.
"My high school's basketball team is playing Manhattan tonight in Manhattan so I had to come get my shirt so I can wear it to the game and to show off to all the Manhattan fans," he said.
Fourteen-year-old Chris Soloway, a Baltimore resident, was among the throngs of KU fans. He shopped at Jock's Nitch with his grandfather, a KU alumnus. Soloway was fully clothed in royal blue, but said he just had to have the coveted championship shirt.
"It was a good game," he said. "They gave us a run for our money, but we won."
Copyright 2018 The Lawrence Journal-World. All rights reserved. This material may not be published, broadcast, rewritten or redistributed. We strive to uphold our values for every story published.