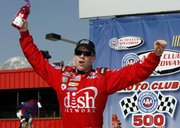 FONTANA, Calif. — Carl Edwards won the rain-delayed Auto Club 500 on Monday, charging past NASCAR Sprint Cup champion Jimmie Johnson with 13 laps remaining.
Johnson, winner of the past two Cup titles, came out of the final pit stop in the lead with 26 laps left. But Edwards surged from third to capture the eighth victory of his career.
Edwards showed good form on his traditional victory backflip in front of the main grandstand after taking the checkered flag in a race that ended under caution when Dale Jarrett spun on the final lap.
Edwards had it all but wrapped up at that point, driving his Roush Fenway Racing No. 99 Ford to a lead of more than four seconds over Johnson. It was his first victory at Fontana but his seventh top-10 finish in eight starts at Auto Club Speedway, formerly known as California Speedway.
"Well, it looked like Jimmie was the guy to beat at the end," Edwards said. "It was fun racing with him. I want to thank Bob (Osborne, the crew chief) and all my teammates for working so hard this winter."
Jeff Gordon, who dominated Sunday's racing, was third. He was followed by Kyle Busch and Roush's Matt Kenseth, who had won the two previous February races at this track. Another Roush driver, Greg Biffle, won this event in 2005.
The Roush Fenway team got off to a slow start with NASCAR's new Car of Tomorrow that was introduced with a 16-race schedule in 2007. It was Johnson, Gordon and their Hendrick Motorsports teammates that dominated the CoT race last year.
But, with the new car running the full schedule this season, it appears Roush Fenway has figured it out.
Edwards went into the final round of pit stops under caution on lap 221 while leading. He came out behind Johnson, Gordon and Roush Fenway teammate Jamie McMurray.
He quickly passed McMurray after the green flag waved for the start of lap 225 and passed Gordon for second on lap 233. He then moved alongside Johnson's No. 48 Chevrolet on lap 236.
They stayed side-by-side for almost two laps before Edwards nosed ahead and then began to pull away.
"Carl Edwards was in another league," said Gordon, whose engine blew seconds before the last of 12 caution flags in the race froze the field and assured his third-place finish. "We've got some work to do to catch those guys."
About 25,000 fans, far short of the 120,000 capacity, showed up Monday, with the sun peeking out from high clouds and temperatures moving into the high 60s.
Copyright 2017 The Lawrence Journal-World. All rights reserved. This material may not be published, broadcast, rewritten or redistributed. We strive to uphold our values for every story published.