Photo Gallery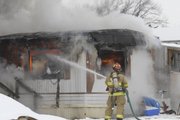 Mobile Home fire
As David Housworth watched television Friday morning, he realized smoke was billowing out of his neighbors' mobile home.
He called 911.
As that smoke turned to flames, Housworth - who is in a wheelchair because he broke a leg in two places after falling on ice - anxiously hoped help would come quickly.
"As soon as I hollered, they came a running," he said of a man and two women who assisted him. "I wanted to get the heck out of dodge."
And his partner of 15 years, Vickie Butler, is grateful.
"I was just so worried about David being in a wheelchair and not being able to get out of the mobile home and down the ramp. Thank God for good people," she said in tears.
Housworth was back home by mid-afternoon and insurance agents were looking at the damage - mostly to the siding, roof and windows.
But three of his neighbors weren't so lucky.
The two-alarm blaze destroyed a mobile home where Raymond and Debra Cassella and their grown son Daniel Thomas lived. The family was not at home, but their three dogs were inside and died in the fire, which broke out about 10 a.m. in Brookwood Mobile Home Park, 1908 E. 19th St.
Russell Holladay, who lived across the street, said when he saw heavy smoke and huge flames, he ran to the Cassellas' home and beat on the sides to awaken anyone who might be home. Holladay and another person also kicked down the front door.
"We were just yelling and making sure no one was asleep and in there," he said.
Brian Corbin's mobile home on the east side of the blaze also received significant damage to the siding and windows.
"I woke up and got dressed as quick as I could and I got outside," he said after being warned by a friend who had spent the night.
"Their house - the whole front of it - was in flames as high as the trees," Corbin said. "I am lucky I didn't lose my whole trailer."
Firefighters had the fire under control about 11:25 a.m. About 20 firefighters battled the fire, said Eve Tolefree, division chief for Lawrence-Douglas County Fire & Medical. She said the 30-degree temperatures didn't hinder firefighters' efforts.
The Douglas County chapter of the American Red Cross is providing financial assistance with food and clothing and temporary lodging for the family who lost their home.
Investigators remained on the scene late Friday, working to determine the cause and estimated damages.
Copyright 2018 The Lawrence Journal-World. All rights reserved. This material may not be published, broadcast, rewritten or redistributed. We strive to uphold our values for every story published.