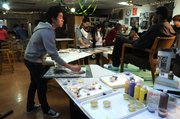 Photo Gallery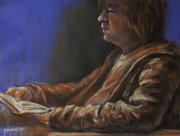 Alex Kim
ArtStar
The ArtStar program, sponsored by Peoples Bank, recognizes seniors in Lawrence high schools who demonstrate outstanding achievement in the fine arts. Honorees also must excel academically.
Nine monthly winners (September-May) will be selected via nomination by fine arts teachers and featured in the Journal-World and on 6News. An overall winner will be chosen from among those honorees and designated the ArtStar of the Year. The annual award will come with a scholarship.
In addition, nominations will be taken for promising students outside the senior class for up to two honorable mention spots each month.
For more information, contact Terry Rombeck, Journal-World features/special sections editor, at trombeck@ljworld.com or 832-7145.
Alex Kim says his affection for painting can be summed up in a recent self-portrait he completed.
It shows him with a big grin across his face.
"I like to show that I love painting, so I was smiling with brushstrokes," he says. "I was just trying to make an interesting view of it."
Kim has been making art for less than three years, but he's already won some impressive awards in his short career.
Now, he can add another award to his resume - he's the ArtStar winner for the month of February. The award is sponsored by Peoples Bank.
Kim, a senior at Lawrence High School, grew up in South Korea. He came to Lawrence for his sophomore year to live with his brother, who then was attending Kansas University. He says he made the move to learn English and have new educational opportunities.
But it also opened the door to a new career path. In Korea, Kim had done simple sketches and dreamed of being an animator. But it was never a serious thought.
"In Korea," he says, "the art field isn't as good as in America. I was thinking of a different major. After I moved to the U.S., I started thinking about art again. Because here, art is really good."
Kim says he hasn't developed his own artistic style yet, preferring to delve into a variety of styles. People and birds are the most common subjects in his works.
He paints, sketches and does sculpture. He also sings in the LHS choir.
"Personally, I like sketches, because it is easy and if you have pencil and paper, you can do whatever you want," he says.
It was one such sketch that earned him national recognition in 2006, when U.S. Rep. Dennis Moore selected a Kim self-portrait to hang in a tunnel in the U.S. Capitol. Kim currently has a piece hanging in U.S. Rep. Nancy Boyda's office in Washington.
In addition, Kim was selected last summer for a scholarship to attend a session to hone his skills with professional artists at Colorado College. His portfolio also was honored as being in the top 5 percent submitted for the youngARTS program, sponsored by the National Foundation for Advancement in the Arts.
Wendy Vertacnik, LHS art teacher, says Kim's dedication is paying off for him.
"He's so hard-working," she says. "He's a really pleasant person to work with. The other thing I like is he says he wants to touch people with his work, and I find he does that."
Vertacnik says she thinks Kim's curiosity in exploring various styles will serve him well in the future, especially if he pursues a career in visual communications. Kim says he would like to illustrate advertisements.
"I'm interested in communication and visual art, like advertisement, so I can send a message," Kim says. "So it's not just an art piece, but I can have meaning behind the art."
Though he misses his home country, Kim says the move to the United States was good for him - both because of art, and for more personal reasons.
"I'm glad I'm here," he says. "I learn so many things - new language, new culture, new friends."
Copyright 2018 The Lawrence Journal-World. All rights reserved. This material may not be published, broadcast, rewritten or redistributed. We strive to uphold our values for every story published.