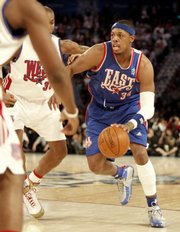 New Orleans — In a proud city still restoring its unique beauty, the Eastern Conference repaired its own image.
Ray Allen scored 28 points, making three straight three-pointers in the final 3:15, and LeBron James added 27 as the East, widely considered the NBA's weaker half, beat the Western Conference 134-128 in Sunday night's All-Star Game.
Last year, the West humiliated the East in a 153-132 rout in Las Vegas. However, this time led by Allen's 14 fourth-quarter points and a stunning dunk by James with 55 seconds left, the East salvaged some pride and can return to the season's second half with bragging rights.
James added nine assists and eight rebounds and was the MVP for the second time in three years. He also won in 2006.
"We didn't want to come out here and get beat up on again," James said.
Amare Stoudemire, Brandon Roy and Carmelo Anthony scored 18 points apiece to lead the West, which trailed by 13 entering the fourth quarter and rallied behind New Orleans' Chris Paul. The guard's seventh assist of the final period set up Roy's layup to give the West a 122-119 lead.
But Boston's Allen, the final player added to either roster, knocked down his second 3-pointer in 48 seconds to tie it before Paul answered with a 3 of his own, sending the hometown crowd into a frenzy.
Allen finally missed and James poked away the ball, and then came up with the night's most stirring moment.
Slashing through the lane, Cleveland's megastar rose and dunked over several West defenders. Dwyane Wade hit a layup and Allen scored to make it 131-125. Roy's three-pointer with 8.7 seconds brought the West within three, but Allen's three free throws closed it out.
The weekend in New Orleans was about more than spectacular dunks, a game featuring marginal defense or collecting strings of beads while strolling down Bourbon Street.
The NBA came to the Big Easy hoping to help the city continue its comeback from Hurricane Katrina, the effects of which are still being felt 21â2 years since she blasted through.
On Friday, the world's biggest basketball names as well as hundreds of volunteers fanned out to all sides of the city to help refurbish playgrounds, paint houses and lend a hand with whatever they could on a day devoted to community service.
Many of the players were moved by the experience and came away with a greater sense of what the area has gone through and the monumental work that lies ahead.
"Well, I hope not just me, but every All-Star from the East and West was able to put smiles on kids and on families faces," James said. "I think we all know what happened, the devastation down here and to bring the NBA All-Star game here I think it really uplifted the families down here. We had a great time."
Copyright 2018 The Associated Press. All rights reserved. This material may not be published, broadcast, rewritten or redistributed. We strive to uphold our values for every story published.