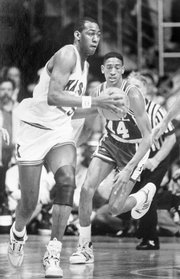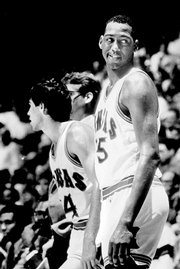 Photo Gallery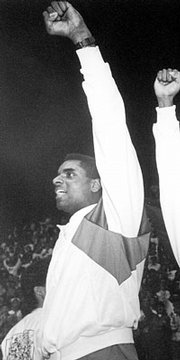 NCAA Championship 20th Anniversary
Mark Randall was on two Final Four basketball teams at Kansas University, and played parts of four seasons in the NBA. That included a half-season with the Michael Jordan-led Chicago Bulls during their dynasty run.
Now working in community relations for the Denver Nuggets, kids often ask Randall who he considers the best player he's ever faced.
"They think it's Michael Jordan," Randall said. "But the best player I ever played against was Danny Manning. Every day in practice for two years."
With the 20th anniversary of KU's 1988 national championship approaching, more than a dozen players from that team recently were asked about Manning, the unquestionable leader of that squad.
Not about Manning the talent. The ability of the 6-foot-10 star during his career at Kansas is hard to debate.
But what about Manning the teammate?
"He was the best," guard Otis Livingston said. "Going into that year, having never met him. : I had an impression of the No. 1 player in the country, an idea of how he would be.
"He was totally the opposite. A down-to-earth guy. He would give you the shirt off his back."
Jeff Gueldner recalls Manning having a relationship with coach Larry Brown that nobody else on the team had. Still, Manning was tremendously popular among teammates because he never abused his status.
"Danny was really our liaison to coach Brown," Gueldner said. "Not that Coach wouldn't yell at Danny. But if we were tired, we would tell Danny and Danny would tell Coach."
Manning certainly earned such privileges - he averaged 24.8 points and 9.0 rebounds per game during the 1987-88 season and was one of the few contributing seniors on the Jayhawks - an endangered species in college basketball anymore.
Most of all, teammates recall Manning never using his ability as a crutch, and never developing an ego in practice or games.
"He worked hard," Archie Marshall said. "He was always one of the hardest workers on the team regardless of how talented he was or how popular he was. He worked as hard as everyone else, and he demanded the most out of his teammates.
"All of that together just made everybody that much better."
And, slowly, it built a championship team. Kansas lost four different scholarship players to injury, ineligibility or suspension during the course of the '88 season. Two bodies were added from the football team to provide depth.
Yet with Brown coaching and Manning leading both on and off the court, the Jayhawks entered the NCAA Tournament feeling relaxed and confident. It was the perfect time for the team to get hot and feel good about itself, and Manning led the charge to six consecutive timely victories.
"Everybody liked him," said Marvin Mattox, one of the added football players. "He would joke with you and laugh with you and play with you. At the same time, in practice, he was going to dunk on you if you were under the basket.
"To this day, if I need something I'm going to call him and he'll help out."
The praise for Manning obviously was fresh after he scored 31 points and snagged 18 rebounds in the 1988 NCAA championship game, an 83-79 KU victory over Oklahoma.
But 20 years seems to have done nothing to temper his teammates' high opinion of him. If anything, it's gotten higher.
"The best," Scooter Barry said. "He was so humble that I actually became a fan of his. And being a player myself, I can't say that I'm a fan of too many other players."
Copyright 2018 The Lawrence Journal-World. All rights reserved. This material may not be published, broadcast, rewritten or redistributed. We strive to uphold our values for every story published.