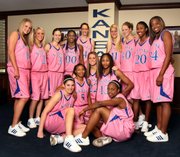 Kansas University's women will be dressed in pink uniforms trimmed in blue. Nebraska's players will wear white trimmed in pink.
When the Jayhawks and Cornhuskers tangle in women's basketball Sunday afternoon in Allen Fieldhouse, the two teams will be taking part in the Women's Basketball Coaches Association "Think Pink" initiative.
"Think Pink" is a global effort to assist in raising breast cancer awareness on the court, across campuses, in communities and beyond. In just its second year, the initiative has grown to 600 participating schools.
For every fan who attends Sunday's 2 p.m. contest, Kansas Athletics will donate $1 to the Breast Cancer Center at Lawrence Memorial Hospital. In addition, the first 5,000 fans will receive a pink T-shirt courtesy of LMH.
Adidas, which provides athletic wear for both KU and NU, is supplying the special uniforms. Kansas University coach Bonnie Henrickson holds the title of secretary on the WBCA board of directors.
Copyright 2018 The Lawrence Journal-World. All rights reserved. This material may not be published, broadcast, rewritten or redistributed. We strive to uphold our values for every story published.