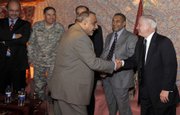 U.S. Deaths
As of Sunday, at least 3,959 members of the U.S. military have died since the beginning of the Iraq war in March 2003, according to an Associated Press count.
Baghdad — Car bombs and gunmen struck new U.S. allies, police and civilians Sunday in northern Iraq, killing more than 50 people. The spate of attacks came even as the American military released a captured diary and another document they say show al-Qaida in Iraq cracking under a Sunni revolt against its brutal tactics.
The violence coincided with a visit by Defense Secretary Robert Gates to Baghdad, where he warned that hard choices face Iraq's political leaders on how to stabilize the country despite promising new signs of progress toward reconciliation.
The deadliest bombing on Sunday was near Balad, 50 miles north of Baghdad, against a checkpoint manned jointly by Iraqi police and members of an awakening group.
Iraqi police said a suicide truck bomber targeted a checkpoint manned by U.S.-allied fighters and Iraqi police at the entrance of a bridge in the district of Yathrib on the outskirts of Balad. Security forces opened fire on the driver, but he managed to detonate his payload, devastating a nearby car market and other stores.
Police in the joint coordination center of the surrounding Salahuddin Province and hospital officials said 34 people were killed and 37 others were wounded. Capt. Kadim Hamid said many residents in the predominantly Sunni area had removed victims directly from the site because they feared going to the hospital in Balad's mostly Shiite center.
The U.S. military put the casualty toll at 23 killed, 25 wounded and said a car bomb exploded near an Iraqi checkpoint in a market in Balad, but it did not confirm it was a suicide attack. U.S. and Iraqi forces had secured the area and the wounded had been evacuated to hospitals, according to a statement.
It was one of the worst bombings this year amid a recent lull in violence, and it underscored U.S. warnings that al-Qaida in Iraq remains a serious threat despite military offensives that have severely curtailed its operations.
The explosion came hours after suspected al-Qaida-linked insurgents stormed two villages near the Syrian border but were repelled by U.S.-allied fighters and Iraqi security forces in clashes that left at least 22 people dead.
Sheik Fawaz al-Jarba, the head of the Mosul anti-al-Qaida group, and other officials said the 22 killed included 10 militants and six members of the so-called awakening group in the area, as well as four women and two children.
The U.S. military in northern Iraq confirmed an attack on a compound housing its Sunni allies against al-Qaida in Iraq near Sinjar, about 60 miles west of Mosul, saying five U.S.-allied fighters were killed, five wounded and 10 insurgents were killed.
Insurgents also attacked a group of civilians elsewhere in the northern Ninevah province on Sunday, killing two men and one child and wounding two other men, two women and two infants, the military said.
Copyright 2018 The Associated Press. All rights reserved. This material may not be published, broadcast, rewritten or redistributed. We strive to uphold our values for every story published.