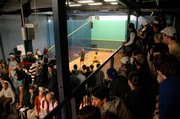 Hartford, Conn. — The sport was once the exclusive preserve of the Ivy League.
But for the past decade, Trinity College has towered over the likes of Harvard and Princeton in college squash, winning its last 179 matches and nine consecutive national titles. It rules the game as UCLA once did in basketball and along the way helped change the face of the sport in the United States.
"It's crazy, right?" Trinity coach Paul Assaiante said. "Until 12 years ago, no non-Ivy League school had ever won the intercollegiate championships."
Trinity's domination dates to 1993, when New England's prep schools voted to switch from the American version of squash to the international version of the game, which is played with a softer ball on a larger court. U.S. colleges followed suit the following year.
Assaiante sensed an opportunity and told his college president that the best squash is not being played in the United States. With the school's blessing, Assaiante, then coach of the U.S. national team, took his recruiting global. The team's last loss came against Harvard in the 1998 College Squash Association finals.
"Paul saw very clearly that was the way to go, and since then it has just completely opened up the game of squash," Brown coach Stuart leGassick said. "It's kind of neat having us Ivys scattered a bit. It's done the game of collegiate squash a world of good."
Trinity began winning, and word spread in the international squash community. Assaiante said much of his recruiting is now done by former and current players who return home and tell the top juniors about their experience at Trinity.
The small liberal arts school in Hartford has a roster that includes players from the U.S., Pakistan, Jamaica, Sweden, Colombia, Malaysia, India and Zimbabwe. The team has no recruiting budget and does not offer scholarships. Players get financial aid based on need.
Garrett Hess, a freshman from Cleveland, came to the Princeton match with friends and says the social calendar revolves around squash.
"It's something to have pride in as a D-III school," he said. "We're so small that it's good to see that we have one team that you can talk to any kid anywhere and say, 'We have the best squash team in the country.'"
Copyright 2018 The Associated Press. All rights reserved. This material may not be published, broadcast, rewritten or redistributed. We strive to uphold our values for every story published.