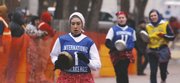 LIBERAL — A southwest Kansas high school student won the annual trans-Atlantic pancake race Tuesday, beating the winner of the British leg of the race by about three seconds.
Amanda Curtis, 18, a senior at Liberal High School, won the race, which pits frying pan-wielding runners in Liberal, against runners in Olney, England. Curtis had a time of 1 minute, 6.3 seconds.
Amanda Brear, 42, covered the 415 yard course between Olney's market square and its church in 1 minute, 9 seconds while carrying a pancake in a pan Tuesday.
The pancake race is a tradition between the women of Olney, 50 miles northwest of London, and their counterparts in Kansas.
The race is held at 11:55 a.m. on each side of the Atlantic.
Shrove Tuesday, widely known in Britain as Pancake Day, was traditionally the last day for merrymaking before the start of Lent. Pancakes were thought to be a good way for the Christian faithful to consume the fat they were supposed to forgo during the 40-day period of self-denial before Easter.
Legend has it that the Olney race started in 1445 when a harassed housewife, rushing to be on time for church, arrived at the service still clutching her frying pan with a pancake in it.
Liberal's celebration has grown to include four days of events and attracts more than 2,000 people to the race.
"Everyone who comes over here from Olney is always amazed that we can turn a 60-second race into a four-day event," said Mark Strange, who has chaired the events in Liberal four times.
"We laugh about it. We've Americanized the 60-second race."
Copyright 2018 The Associated Press. All rights reserved. This material may not be published, broadcast, rewritten or redistributed. We strive to uphold our values for every story published.