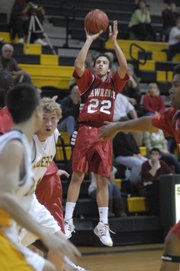 Overland Park — Lawrence High's boys basketball team could not have asked for a better opportunity with the game on the line Tuesday night.
With precious seconds ticking away and the Lions trailing by three at Shawnee Mission South, LHS ran the perfect play to get one of its best three-point shooters, Bobby Davis, open in the corner for three. And when that didn't fall, the Lions got the rebound and found another one of their best three-point shooters open in Dorian Green. But his shot didn't fall, either. So the Lions got the rebound once again for a third attempt. That came from sharpshooter Lance Kilburn, who fired away from three as the buzzer sounded.
Three of the Lions' top long-range shooters. Three clanks in 15 seconds. A tough 53-50 loss against the Raiders.
Still, the outcome was encouraging to Lions coach Chris Davis.
"We had a pretty difficult gameplan, and we executed it pretty well," Davis said. "Almost everything that we had to do, we did.
"Really, I feel as good as you can feel about a loss."
Part of that had to do with the way LHS dealt with Raiders star guard Will Spradling. The Lions combined a series of different defenses, including a diamond and one, to try limiting Spradling's points, and it worked. The Lions then tried attacking Spradling on the other end to force him into foul trouble, and that worked as well.
"We knew he was their best player and we just tried to slow him down," Lions center John Schneider said. "We didn't want him to have a 30-point game on us or anything."
Spradling didn't, finishing with 12 points on 5-of-12 shooting while sitting out much of the fourth quarter.
Lawrence, meanwhile, exhibited a composure that had been lacking in previous games. SM South led 44-38 with 50 seconds left in the third quarter before the Lions stormed back to tie in the fourth quarter on two Green free throws. LHS even briefly took the lead, 50-48 with 3:10 left on three more Green free throws.
But Tim Bury hit a three-pointer to help SM South retake the lead at 51-50, and Tom Chaffee followed that up with a layup, setting up the final Lawrence sequence - one Chris Davis said he borrowed from former Kansas University coach Roy Williams.
"The objective is to get a three if you can get it, but that you crash the boards and get the rebounds, and we did," Davis said. "We executed the way we wanted to. It just didn't go in, but it sure looked like it was."
Said Green: "If you get three good looks, you'd think one would fall. I thought our last two threes were in."
Green led LHS with 20 points, and Schneider added 17.
Lawrence (6-9, 1-6) takes on Shawnee Mission West Friday night at 7 p.m.
Copyright 2018 The Lawrence Journal-World. All rights reserved. This material may not be published, broadcast, rewritten or redistributed. We strive to uphold our values for every story published.