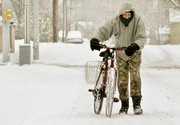 Chicago — Winter storms at both ends of the country dumped snow and snarled air and land travel Friday, killing at least 10 people, blocking major highways and even stranding 400 train passengers in the mountains of the Pacific Northwest.
Nearly 7 1/2 inches of snow was reported at Chicago's O'Hare International Airport before the front moved out of the area Friday. About 500 flights were canceled at O'Hare, which canceled 600 flights Thursday and housed hundreds of stranded travelers who spent the night awaiting planes from other cities also affected by the storm.
At least 12 inches of snow was reported in Springfield by Friday morning, said National Weather Service meteorologist Gino Izzi. Other parts of Illinois saw similar amounts.
The storm brought snow, freezing rain and sleet to the Northeast, where arriving flights at Newark Liberty Airport were delayed as long as three hours Friday afternoon. Arrivals were delayed by 2 1/2 hours at La Guardia Airport, two hours at Philadelphia International and an hour and a half at New York's Kennedy, according to the Federal Aviation Administration's Web site.
Along the nearly 500-mile-long New York State Thruway, troopers reported more than 200 accidents - compared with 10 to 15 on a typical clear day.
At least four people died Friday on ice-slicked Hudson Valley roads - three when their car slid into an oncoming sanding truck in East Fishkill, the fourth in a head-on collision in the town of Goshen. Six people died on Illinois roads Thursday and Friday.
Another storm system made roads impassible in parts of the Pacific Northwest. In Washington state, a 70-mile stretch of Interstate 90 remained closed because of the avalanche danger at the Snoqualmie Pass in the Cascade Range.
The state's main east-west traffic route across the Cascades had been closed for all but six hours since Tuesday morning - the lengthiest closure for the pass since 1997.
Recent storms have dumped more than 5 feet of snow on the pass, and more was expected by this morning.
Crews used dynamite to dislodge unstable snow near the highway. State Department of Transportation administrator Don Whitehouse gave no prediction on when the freeway might reopen.
Two Amtrak trains carrying 400 people got stuck in the mountains of Northern California near Donner Pass, agency officials said. No injuries were reported.
The trains had been stuck since 2 p.m., but the passengers were fed and both trains have heating and lights, Amtrak spokeswoman Karina Romero said.
Copyright 2018 The Associated Press. All rights reserved. This material may not be published, broadcast, rewritten or redistributed. We strive to uphold our values for every story published.