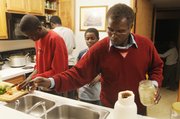 -->
Luis Mendoza used to help an uncle work on houses. He's also helped Lawrence Habitat for Humanity build some of its houses.
Next year he and his wife, Tamara, hope to be building their own home with the help of Habitat.
"It's been awhile. I'm a little rusty," Luis Mendoza said of his carpentry skills. He works for the city of Lawrence loading trash trucks while his wife is employed at Independence Inc., a service organization that helps people with physical disabilities.
Recently, Karim Khatir Abdelbanat was among 100 employees laid off by Amarr Garage Doors Group, a Lawrence manufacturer. He still works what had been his second job, taking care of people with disabilities for Community Living Opportunities. His wife, Magda Abduljabbar, also works for CLO.
"It's tough. I'm looking for another job," Karim said.
Karim also hopes construction can start in 2009 on his family's Habitat house.
"It will make a big difference. It's the dream of a lifetime," he said.
Economy hits hard
The Mendoza and Abdelbanat-Abduljabbar families are at the top of Habitat's list of 12 families waiting for houses. In 2009, seven homes were to be built, but that has been cut back to four because of the troubled economy, Habitat chief executive Jeremy Hahn said. Three of seven sponsoring organizations — which lead fundraising efforts for a particular house — dropped out because of fundraising difficulties, he said.
"Hopefully they'll rejoin us in 2010," Hahn said. "Donations are coming in very slow."
The remaining four housing projects are also in jeopardy if tens of thousands of dollars can't be raised. A typical Habitat house is built for $90,000, but because of the economy, a cap has been set at $78,000, Hahn said. The adults in a family whose house is being built are required to work more than 200 hours in "sweat equity" helping volunteers build their house and others. Once a family takes over the house, it pays the mortgage at low or no interest. Habitat uses federal income guidelines in selecting families for its housing program.
"You don't have to have perfect credit, but we're looking at families who are responsible and try to pay off their bills," Hahn said.
Abdelbanat-Abduljabbar family
Gaye Groene is a Habitat volunteer who assists the Abdelbanat-Abduljabbar family, keeping them informed and answering their questions.
"They are a family that has worked very hard," she said. "Both of the parents have always had a job and have moved along to better jobs for a little more pay. Their family is the important thing."
Karim, 51, is originally from the Darfur region of Sudan. He lived in Saudi Arabia where he worked as a math and physics teacher and later took a teaching job in Bahrain at a school for American families who were working there.
Karim eventually made his way to the United States, studying at Kansas University where he earned a master's degree in mathematics. He has a substitute teaching license but doesn't have a teaching certificate. He and Magda, also from Sudan, have four children. The couple has always rented houses or apartments.
Mendoza family
Luis Mendoza, 36, and Tamara, 34, Lawrence natives, also have four children, ranging in age from 4 to 15. The family is looking forward to getting out of their cramped apartment, Luis Mendoza said.
"It's going to make a big difference, going from renting a place to actually getting into something that you can really call home," he said. "I'm quite ecstatic."
The Mendoza family's excitement also is evident, said Kenn Rogers, their Habitat family partner.
"Oftentimes we have families selected who are kind of hesitant about what they have to do," Rogers said. "These people are very excited about the "sweat equity" and have helped with other people's homes, worked in the office and have volunteered to do other things. This is a family committed to make this happen."
To donate to Lawrence Habitat, 720 Conn., you can go to its Web site — lawrencehabitat.org — or call 832-0777 for more information. Habitat also has what it calls the ReStore, 800 Comet Lane. The ReStore accepts and resells new and used building materials, furniture and appliances in support of Habitat's building program. Customers can find materials prices about 50 percent less than normal retail.
Copyright 2018 The Lawrence Journal-World. All rights reserved. This material may not be published, broadcast, rewritten or redistributed. We strive to uphold our values for every story published.