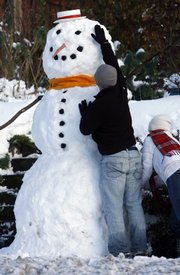 If the recent frigid temperatures have you feeling a bit grumpy, this week's weather forecast might cheer you up.
The brutal cold snap appears to be on its way out. And snow that's expected to move through the area means Lawrence likely will have a white Christmas Eve — and Christmas morning.
"Most of the snow should be melting on Christmas Day, but whenever they wake up Christmas morning, people should see some white on the ground," said Craig Painter, 6News meteorologist.
There's a slight chance for rain that could turn to freezing rain or sleet today, with a high temperature forecast to be 34 degrees, Painter said. Then as the temperature drops around 8 p.m., it could start to snow throughout the night.
By Wednesday morning, up to 2 more inches could be on top of what's left over from last week. Winds are expected to gust as high as 30 mph Wednesday as the temperature reaches 26 degrees, according to the National Weather Service.
So, if any snow melts, it likely won't be until Thursday, Painter said, when temperatures warm to the high 30s later in the day.
"It looks like some people should be seeing some white whenever they look out the door Christmas morning," Painter said.
Then the warmer temperatures should provide some relief from the frigid cold of the past few days. Forecasters are calling for highs in the 40s beginning Friday and stretching through the weekend.
Copyright 2018 The Lawrence Journal-World. All rights reserved. This material may not be published, broadcast, rewritten or redistributed. We strive to uphold our values for every story published.