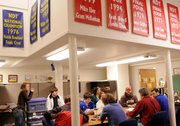 Kansas University's college debate squad is, by any measure, having a good year.
Its top team of Brett Bricker and Nate Johnson is enjoying success, tearing through several major tournaments this year.
"They've probably had the best semester that any team in KU history has had," said Scott Harris, the squad's head coach.
And that's saying something, he said. The team's practice area in the sub-basement of Bailey Hall is decorated with several banners, including four National Debate Tournament titles. The team currently sits at No. 1 in the national tournament's ranking system.
Harris said that as with any college sport or activity, debate requires essentially two components: talent and hard work.
Bricker, a Wichita senior, said he's feeling the pressure going into the next semester as his team prepares for the national tournament. He estimates he spends between 45 to 50 hours a week on debate preparation.
"The expectations are pretty high," he said. "But it's nothing I wouldn't put on myself."
A debate round consists of two team members against two opponents. The four students take turns delivering speeches centering on a topic. This year, debaters are discussing agricultural policy.
The speeches are often delivered at breakneck speeds, making them nearly indecipherable to someone not used to listening to them. Debater Dylan Quigley, a junior from Wichita, compared the speed to an auctioneer talking.
"There's a lot of outlandish stuff in debate," Quigley said. "Some people say that makes it sound like it's not a persuasive, rhetorical activity."
But to those people, Quigley will remind them that there's quite a number of persuasive devices crammed into those rapid-fire words that can come spewing out of debaters' mouths.
Harris said that debate teaches people to think quickly on their feet, and how to use language efficiently and effectively — all important real-world skills.
And he said he's never met a successful college debater who wasn't able to transition to becoming an outstanding "real-world" speaker and communicator.
Debaters and coaches also expressed some frustration at an incident earlier this year during which the debate coach at Fort Hays State University was fired after dropping his pants in a post-round argument with another coach.
Harris said that incident is not representative of what goes on in college debate rounds, and he said it was unfortunate that it was promulgated throughout the Internet and the media.
He asked everyone to imagine what people would think college basketball was like if the only thing they ever saw of it was Temple coach John Chaney trying to choke Massachusetts coach John Calipari in 1994.
"We live in a YouTube era where a good video becomes reality," he said.
Bricker agreed — he said he's never seen anything like that before.
"I think if people understood what went into the activity, people would appreciate it a lot more than what they can see in that video," he said.
Harris said the debate program at KU has enjoyed its successes because of administration-level support, lots of good coaching, and the talent and hard work put in by the team members.
The squad has 10 coaches, most of them graduate teaching assistants. That level of coaching is something not enjoyed by many programs, Harris said, and allows KU to remain competitive with some of the top debate programs in the country.
The team has done well in attracting good in-state debate talent without the benefit of debate scholarships, which some schools offer.
"It's a great outlet for people who are competitive, motivated and intense," Harris said. "It's an incredible experience."
Copyright 2017 The Lawrence Journal-World. All rights reserved. This material may not be published, broadcast, rewritten or redistributed. We strive to uphold our values for every story published.