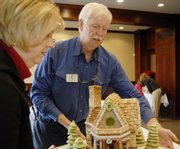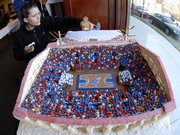 Keith Wood has volunteered for more than 25 years leading a Lawrence-area Boy Scout troop.
Earlier this year, he saw the Big Brothers Big Sisters of Douglas County — another organization that provides mentors to young people — needed a new executive director.
The position caught his eye.
"I've spent a lot of my life working with young people, and I find it very satisfying," Wood said.
The state's BBBS association hired the longtime Lawrence resident with the blessings of a local screening committee.
During his first few weeks on the job, Wood has started working on a plan to raise the organization's profile.
The area organization matches volunteers to help mentor children.
It serves about 500 children a year in Douglas County.
"In any given community, there is going to be a population of young people at risk," Wood said.
One of his main goals will be to reduce the waiting list that typically has 60 children on it.
The organization has one of its major fundraising events this week. The annual gingerbread house auction will be 7 p.m. Wednesday at The Eldridge Extended, 201 W. Eighth St.
The auction is open to the public. Tickets cost $35.
Wood comes to his new position after recently working as a corporate technology account manager for Morris Communications, a national newspaper group.
Wood earned an education degree from Kansas University, and he is also a former West Junior High School teacher.
He and his wife, Barbara, have lived in Lawrence for more than 30 years.
Copyright 2018 The Lawrence Journal-World. All rights reserved. This material may not be published, broadcast, rewritten or redistributed. We strive to uphold our values for every story published.