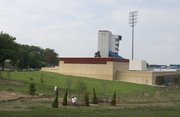 Scooter's Coffeehouse wears its green ambitions for all to see.
The soon-to-open drive-through coffee shop at Ninth and Iowa streets is topped with 650 square feet of green grass shooting up from its steeply pitched roof.
Scooter's is just one example of green roofs sprouting up around Lawrence and the surrounding area. Also going green is the weight room at Kansas University's 80,000-square-foot Anderson Family Football Complex. There, the roof is hardly distinguishable from its surroundings at Campanile Hill - which, of course, was exactly the point, says university architect Warren Corman.
"It was something like 20,000 square feet, and if we built that on top of the hill, it would be so huge it would distract from the beauty of that hill, and we didn't want to do that," Corman says of the weight room. "So we designed it so that large room ... was basically underground into the hill. We made it so the grass hill would come right over the roof of it and hide it completely."
Sprouting up
In Kansas City, Mo., there are two green roofs at the Nelson-Atkins Museum of Art, a green roof at the central branch of the public library and at a new residential development at 909 Walnut. In Topeka, Stoffer Hall at Washburn University has a green roof as well.
Why the growth?
The roofs, composed of layers of sod and grass, keep a building's temperature down and, when used in dense urban areas, can reduce the urban heat island effect that can be aggravated by the sun baking down on normal roofs.
Brian Davis, a project manager at Jeffrey L. Bruce and Company in North Kansas City, Mo., the company that designed the roof at the football complex, says green roofs can cut dissipating heat in half.
"They contribute to the betterment of the climate," Davis says. "The average temperature I think for a standard roof is roughly ... 160 to 180 degrees Fahrenheit. Green roofs are turf, and plantings can keep that temperature down into the 80s and into the 90s."
That also can mean big-time savings for large buildings that invest in green roofs. For the weight room housed under the green roof at the football complex, Corman estimates KU will save $20,000 per year in energy costs because of the cooling effect provided by the green roof's insulation. And the school will get more out of the investment being able to use the roof space as a tailgating area.
"We can have tailgate parties and everything because nobody knows it's a room underneath there," Corman says. "The only thing we can do is let them drive a steel stake down through it to anchor a tent. That would kill the roof."
Weeding out problems
With all the benefits of a green roof - insulation, energy savings, aesthetics, multiple uses, the eco-friendly quotient - why haven't more green roofs been sprouting up around town on buildings and homes?
First, there is the maintenance. The grass on a green roof is just like anything you might put in your yard - it has to be mowed. And getting up on your roof every couple of weeks to mow is probably not something many people probably want to take on. It also has to be watered, just like your lawn.
And too much water can be a bad thing, of course, if the roof was not properly designed. The grass absorbs water easily instead of letting stormwater drain quickly into gutters. If there is a breach in the waterproofing, you could end up with a major leak.
But cost is probably the biggest factor. Depending on the type of green roof, the condition of the building to start with - an existing building could need structural improvements to be able to carry the weight of the heavy roof - and other factors, the cost could be more than $40 per square foot or more. That's a whole lot of green to be green.
But all that is worth it to Sven Alstrom of Ecological Architecture, 842 W. 21st St., who has plans to put a green roof on a home he owns - once he can find the money for such an expensive project. He most looks forward to getting a green roof to make August days in his home a little cooler.
"Usually this is my least favorite month in Lawrence, but this year has not been nearly as hot. If we all did green roofs, it would be cooler like this each year," he says. "Chicago is doing it in their urban core, and just imagine if we did that on Mass."
For Scooter's owner Scott Zaremba, who also owns the nextdoor Zarco 66 Earth Friendly Fuels, the roof is also worth it - even if it's a 650-square-foot island in the stream. He sees the roof as just the start of the company's green initiative. The coffee shop will also use eco-friendly cups. Even the building, which had long been on the property, is recycled, Zaremba points out.
"The whole intent was, look, you can do anything anywhere and every little bit that you do has an impact, because if we had the mentality that just our little bit wasn't going make a difference, we wouldn't do anything," he says. "It's about doing a little bit everywhere to make an impact."
Copyright 2018 The Lawrence Journal-World. All rights reserved. This material may not be published, broadcast, rewritten or redistributed. We strive to uphold our values for every story published.